Maple Ridge Ranch Wedding Portraits
When I sat down with Nicole a few weeks before her wedding, she bemoaned the lack of room in her timeline to head up to her favorite Maple Ridge Ranch for Wedding Portraits.  All I needed to hear was "Ranch Wedding Portraits" and we decided to make it happen.  Two weeks after her Murrayville Hall Wedding, we spent an evening creating Maple Ridge ranch wedding portraits and trying not to trash the dress too badly. 😉  I love it when my brides choose to do a pre-wedding shoot or a trash the dress session; the opportunity to spend dedicated time in wedding finery with just the bride and groom? Nothing short of wonderful.
Ranch wedding portraits are the bomb. Especially when there's a multitude of horses, three cats, many goats, and two doting dogs.
With these moments, I was in love.  We had already walked through the mud, slapped away a few mosquitoes, and scared a couple of horses with the swish of Nicole's dress but then the sun and the barn and the woods and the clouds worked together to create a cinematic beauty that took my breath away.
Can you tell she loves her horses?
Can you tell her loves her? 😉
That sky, though!
And THE GRASS! (It looked like summer, even though it dipped to freezing after the weekend!)
In these moments, Nicole taught me how to approach a horse and befriend it. I learned, therefore, the secret to Amy Fleming's success on Heartland. (Kidding, of course, but it definitely felt like something I'd see on Heartland!)
Eight year old me would have loved these moments. Thirty-something me realized anew how big these creatures are! 
And, as a crowning glory on our evening of Maple Ridge ranch wedding portraits: I present two kissing couples.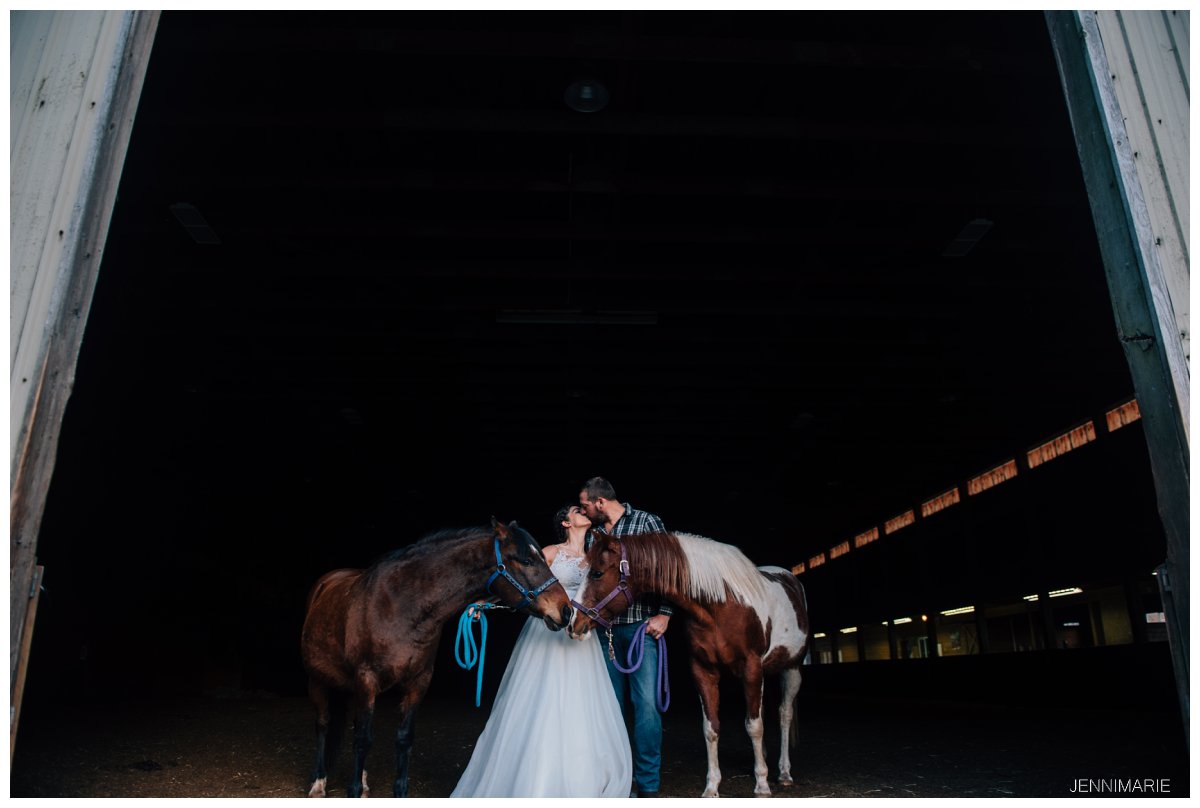 Thanks for being willing to kinda sorta almost trash the dress, Nicole! You guys are ever-awesome and I loved playing on a ranch with you. =D