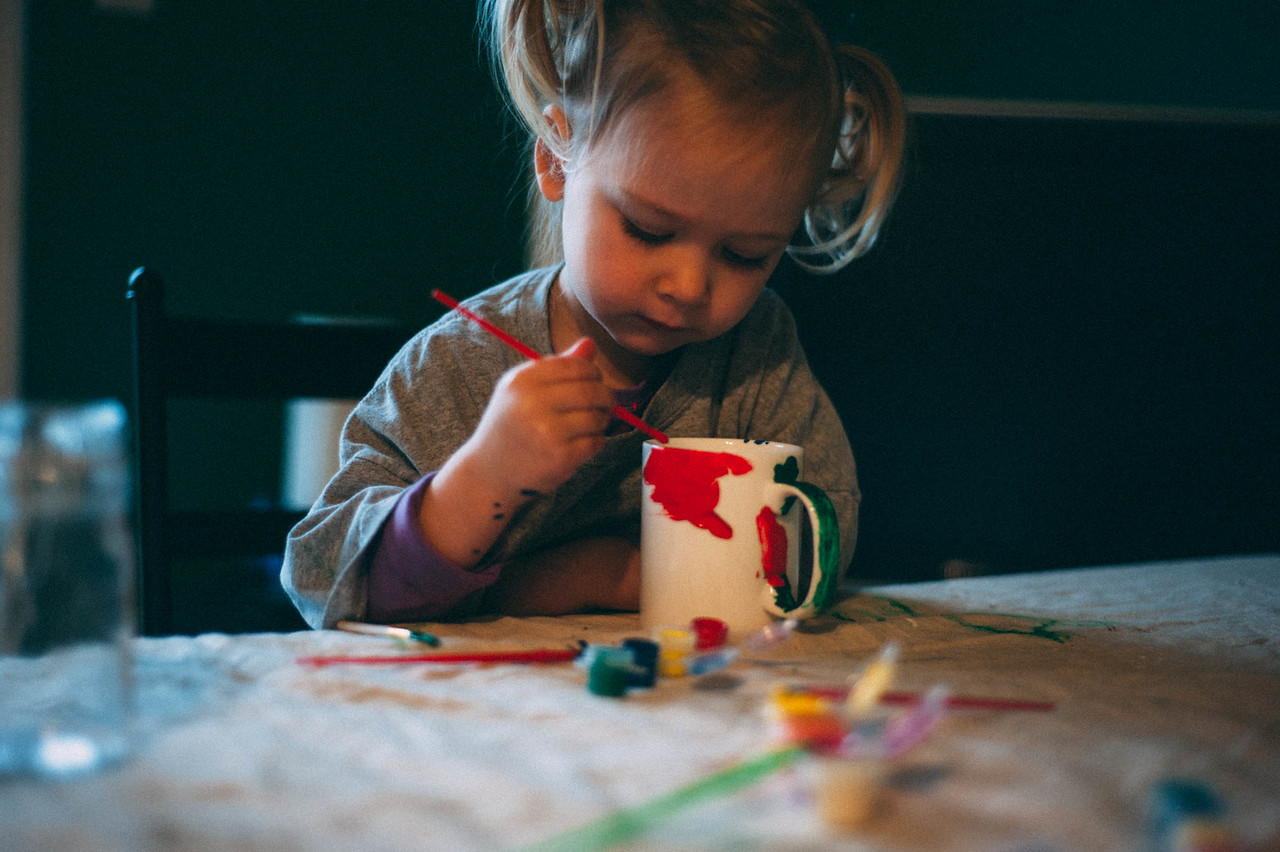 Choose joy.  Some days, it's easy.
Choose joy in fingers dipped in paint.  Choose joy in little nuggets of artwork created by little gems of people.  Choose joy in rainy days filled with yellow flowers and smiling children.  Choose joy in globs of paint in blonde hair.
It's easy to smile when creating artwork and giggling with littles and watching little pigtails swing in paint-filled delight.
Choose joy.  It's harder when trouble closes in, when relationships fragment, when doctor reports come back abnormal, when life is more questions than answers, when hearts hurt.
A little glob of paint could be a mistake soiling the pristine white surface, or it could be the beginning of a masterpiece.
An unfortunate circumstance could be the flaw in an otherwise perfect life, or it could be the beginning of a carefully woven string of events that culminate in far more beauty than ever imaginable.

Spilling paint on a three-year-old's hair could be the worst trauma of the day, or it could be the beginning of one hilarious laughter-filled memory that transcends the decades.
Accidentally dipping fingers in the paint container could be a traumatic reality, or it could be the start to a new style of painting that becomes fingerprint artwork; a piece of artwork that will be even more cherished than a regular paint brush would afford.
Do you see the pattern?

Do you get the gist?

Life will never go exactly according to plan.

I will always make a mistake or face a trial or walk into a trauma.  It's inevitable.

But my reaction to the trouble will shape my perspective on the situation.
Or, more precisely, my perspective will shape my reaction.

"Life is 10% what happens to you and 90% how you react to it." ~ Chuck Swindoll 
As I actively choose joy, I must face the reality that this is a daily decision, an hourly determination, a minute-by-minute dedication. My attitude, my perspective, my reaction must constantly change and constantly be shaped by objective Truth and no subjective reality.


Not only have I had fun hosting Painting Parties for my little friends, but they've managed to teach me so much about life, perspective, and finding the glass half full (even if it's half full of paint :-P)

Plus, hanging out with cuties like these mean that I get to make usable, beautiful craft projects and decorate (and eat!) yummy cookies.
It's a win-win!