Five Reasons You Should Go to a Marriage Conference
If you have been around for any length of time, you know that I believe passionately in the importance of marriage. A wedding may be the most hyped, most celebrated, most fabulous day of your life BUT it's merely the beginning of a lifetime of togetherness. While the wedding is the day that Pinterest helps you plan and I will happily help photograph, the marriage is ten times more important — or, if we are assuming the average marriage is 50 years of 365 days, that's 18,250 times more important (never claimed to be a mathematician so don't judge).
Believing a marriage is more important than the wedding is a good start, but acting on that perspective is vital.
My husband and I acted on our perspective this month, spending a weekend focusing on our marriage by attending our very first marriage conference: the Family Life Weekend Getaway (the Canadian counterpart to the Family Life Weekend to Remember). Lest you think this was a difficult decision, don't feel sorry for us: a weekend in a five start hotel in one of British Columbia's best destinations just a beautiful ferry ride across the ocean from our home with a side of training with a healthy dose of humour. No difficulty here.
(Plus: read all the way to the end for a Family Life Weekend Getaway promo code just for you!)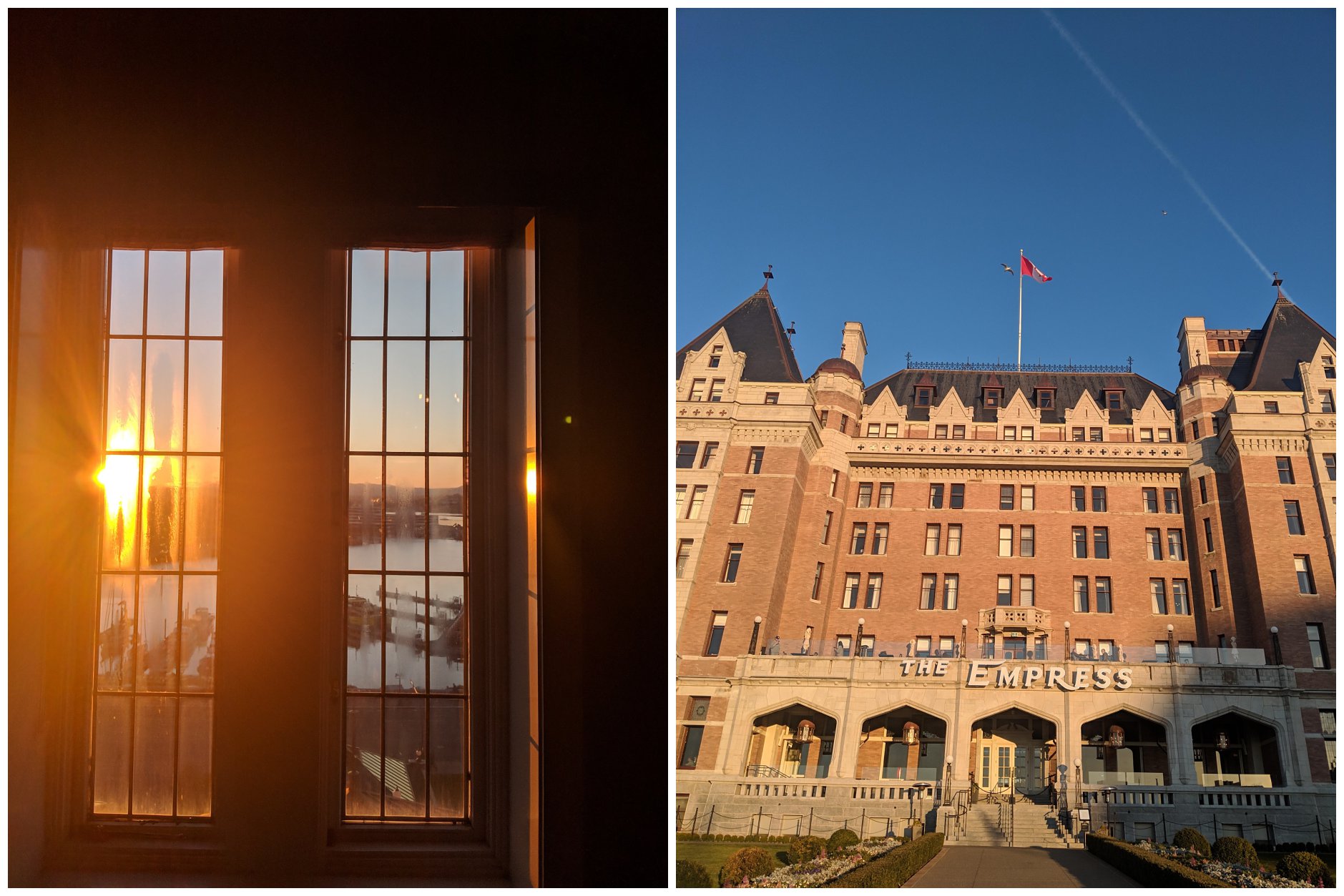 Whether you have been married for forty years or are just getting ready to celebrate your first anniversary, I'm here to tell you: you will benefit from attending a marriage conference. We put it off for years because it seemed like too much of an investment (the accommodation is the largest expense), and seemed like too much of a sacrifice to set aside that much time (it's really only three days!), and seemed like it would be too awkward (it was actually ridiculously refreshing).
So, without further ado:
Five Reasons You Should Go to a Marriage Conference
One: Dedicated time together in a luxury environment. If you're anything like us, the last time you were in a luxury hotel was during your honeymoon. To spend two nights with a doorman and all the amenities? It's reason enough to attend a marriage conference. The end. 😉
Two: Helpful perspective from outside your marriage. Every marriage is a bit of a cocoon, revolving around itself and commonly without outside perspective. We have no way to know whether someone else has ever walked this same road unless we open ourselves to others. . . and sitting in a room laughing at the inevitable differences we overcome in marriage (Tim Hawkins) while crying at the same video clips (<— go watch it!)? It's wildly beneficial. I cannot over emphasize how encouraging it is to feel the camaraderie of 150 other couples walking very similar roads. (But don't worry: you don't have to talk to anyone but your spouse during the weekend.)
Three: Training to improve the most important relationship of your life. You've read a bazillion articles on how to word your formal invitations, spent half your engagement scouring Pinterest for centerpiece ideas, and scoured iTunes looking for the best song for your first dance. But have you poured the same effort into learning about your marriage? Just saying. A weekend full of information from experts, words and concepts to help navigate conflict, and a lot of humor? The value is unparalleled. Since every couple walks in from a different place, every couple will walk out with a different take-away to put into action.
Four: Well-crafted flow of the weekend. I was absolutely floored with how well the organizers planned the weekend to preemptively take away any nerves ("we promise you don't have to talk to any strangers this weekend" was the first announcement made :-P), broke down big issues into very manageable, bite-sized pieces, and interspersed complex topics with nostalgic romance.

Five: Everyone who attends will absolutely walk away with an actionable way to strengthen their marriage. And this is basically a guarantee, especially because of that "flow" I talked about above. The last twenty minutes of the conference is a guided exercise ensuring every person walks away with a bite-sized way to improve their marriage. (AND they suggest pre-scheduling a date night so that in one month you're checking in on progress.)
While it's emotionally exhausting to spend three days talking about feelings, being honest with yourself and your spouse, and navigating potential points of conflict: IT'S WORTH IT. With the tools and skills you'll learn, the romantic strolls around a new city for date night, and a even a dedicated time to write a love letter to each other: it's worth it!
No matter where you're at, no matter how strong your marriage, no matter how well-versed you are in navigating personality differences: IT'S WORTH IT.
You should go to a marriage conference. Tell someone else to go to a marriage conference. Be stronger in your marriage because of attending marriage conference.
I believe SO MUCH in these marriage conferences, that I have worked with Family Life Canada to offer a promo code just for my you!  When you make your reservation for a Weekend Getaway Fall 2019/Spring 2020, use promo code "jennimarie20" to received 20% off your registration!  (That discount applies to both early bird and regular registration, so act sooner rather than later!)