Wedding Flowers and Bouquet Ideas
Wedding flowers. Until you started planning your wedding you thought bouquets were all the same, right? Now you're buried in options: cascade, posy, biedermeier, and don't forget the tussy-mussy! How are bridal bouquets different and which one is best for your wedding flowers?
I'm here to help. Below are my several of my favorite bridal bouquets with examples of which wedding styles they suit best and ideas for styling your flowers so they enhance your entire day.
Cascade/Shower Bouquet
A cascading bouquet showcases the florals in a waterfall of color with a twist of drama. The cascade arrangement becomes a statement piece for the wedding, so is best showcased against a simple wedding gown and minimal accessories.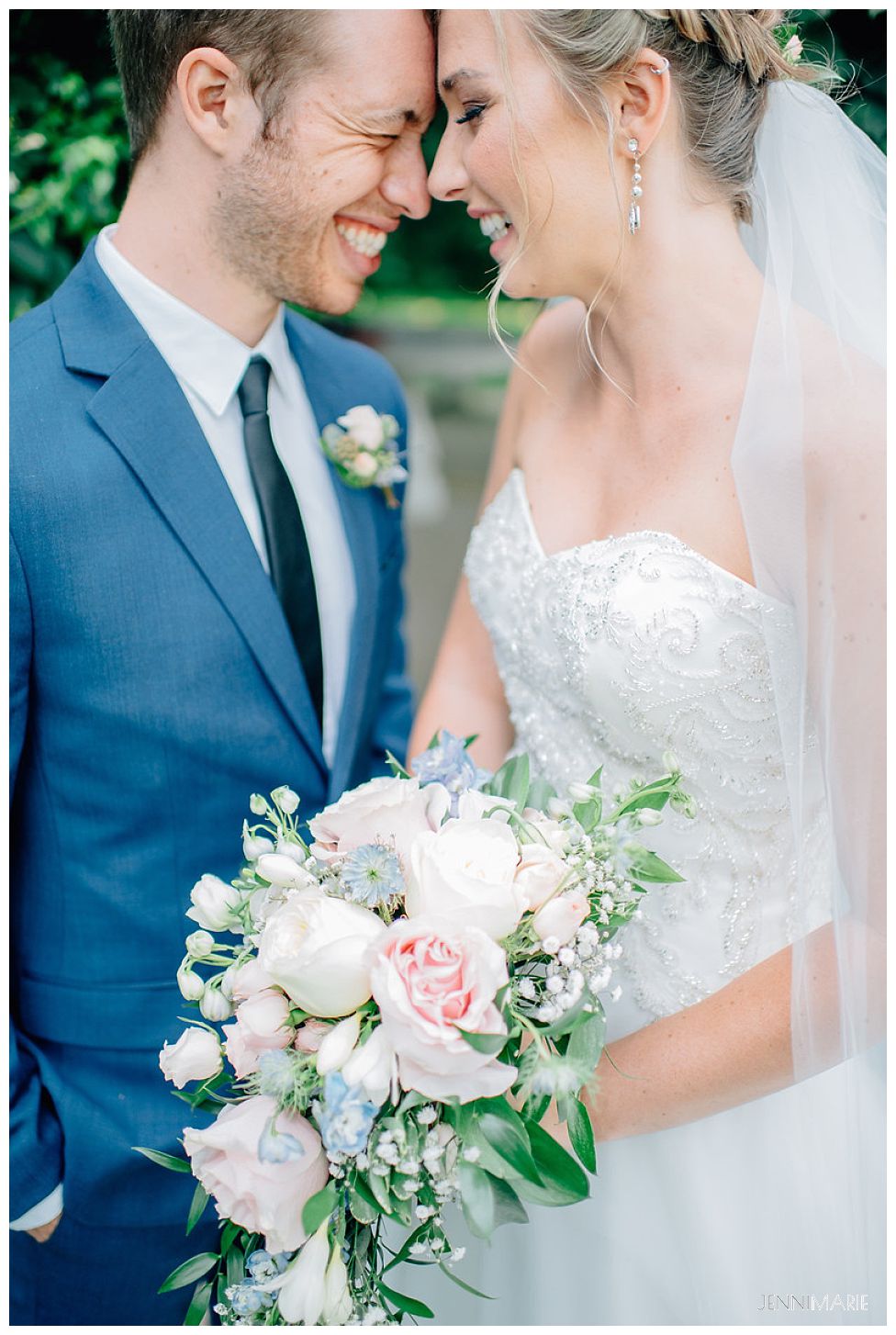 Kristina's cascading bouquet of wedding flowers worked perfectly with the clean lines of her wedding dress. The workmanship of Confetti Floral Design is superb, as always, and the combination of roses and rosebuds and baby's breath made for a glowing piece that showcased Kristina's creative charm with class.
Posy/Nosegay/Round
In all the weddings I have photographed and attended, the posy bouquet (also known as a nosegay or round bouquet) is most popular. It's classic, popular, simple, beautiful. The classic style of a posy bouquet will never go out of style – especially because the elegance showcases the florals so well!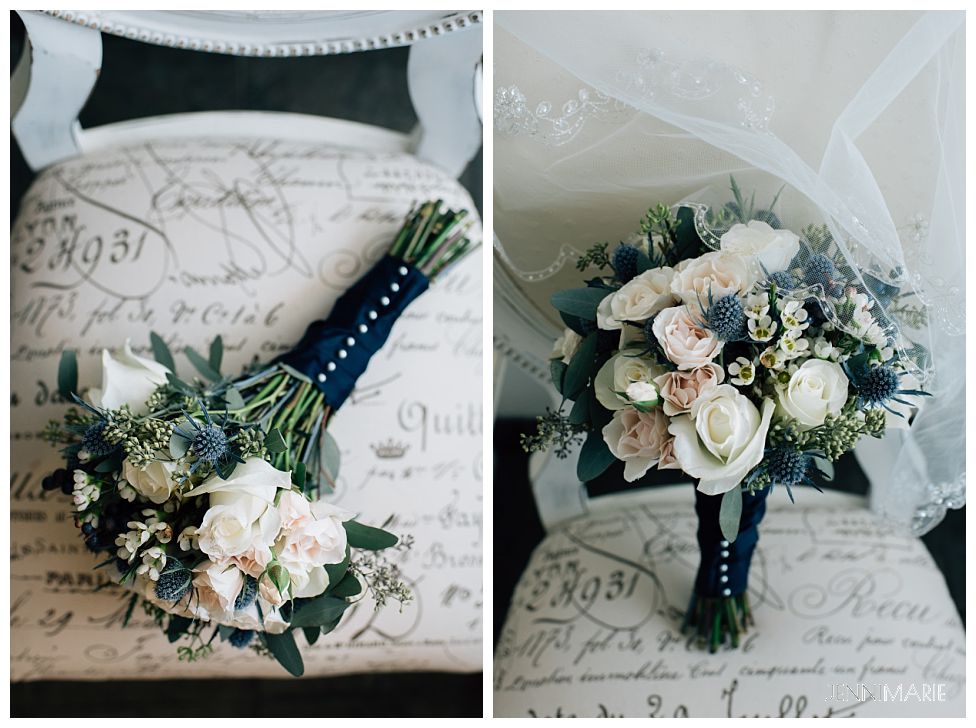 Chelsea's classic blush-toned rose bouquet was arranged by Bucket's Fresh Flower Market in Abbotsford. I especially love the variety of textures included in the bouquet and the hint of navy to go along with her wedding colors!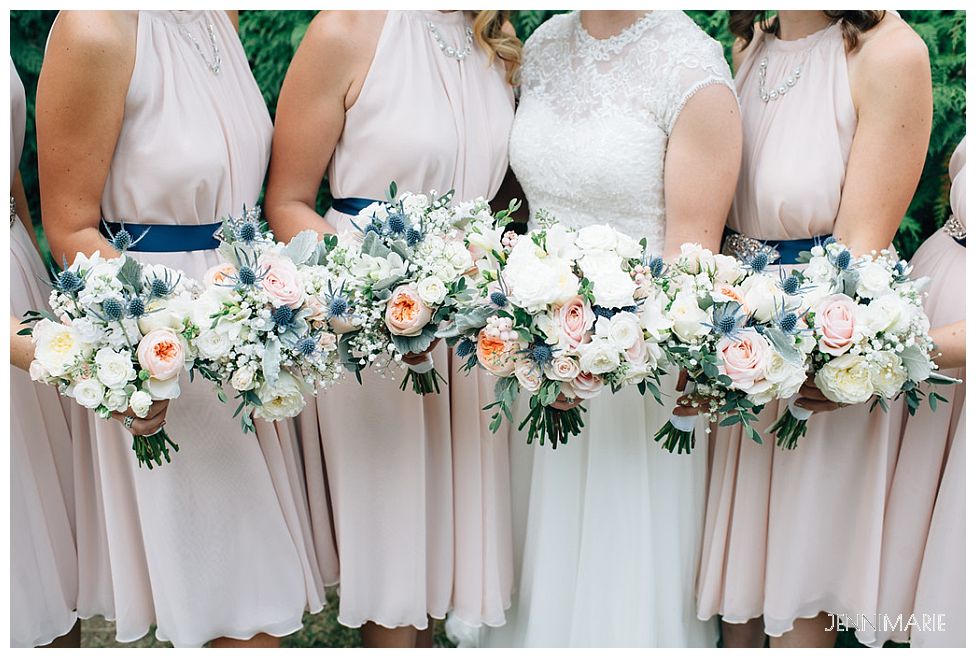 Matching bouquets with summer peonies and blush roses are absolutely divine, as evidenced by Britteny's bridesmaid bouquets by Sophia's Flower Shop.
I will always be a fan of the decadent smell and feel of a bouquet of fresh wedding flowers, but I made burlap roses for my wedding  and I adore the graceful elegance of Jenny's silk bouquet above. Choose the style of bouquet and variety of wedding flowers that works best for you!
Hand-Tied
For a looser, fuller, larger bouquet the hand-tied style is your friend. While other bridal bouquet styles use wire to hold flowers in place, the hand-tied style uses only ribbon to finish the piece. A freer style, a hand-tied bouquet showcases both greenery and flowers. Used for a boehmian feel, the hand-tied bouquet seems to be growing in popularity in recent years and I love it.
I especially love the rich hues of these burgundy peonies juxtaposed against the wild and free flow of the greenery. (Plus, this bouquet for Gina by Simply Perfect Flowers smelled heavenly!)
As proof that a hand-tied bouquet is glorious, check out this greenery-filled bouquet by Kaye Fleur — and if you want to shower me with flowers, make it a greenery-rich bouquet like this one with subtle pops of burgundy and blush.
Flower Crown
Ever since I took a flower crown workshop at Confetti Floral, I have adored all things flower crowns. When Emileigh wore a Confetti Floral crown to accent her sunflower bouquet, I was in love. Instant love. Although a flower wreath is most often worn as a crown, you could also carry it as a bouquet! How fantastically unique would that be?!
Pageant/Arm-Sheath
The pageant/arm-sheath style bouquet is exactly what you'd expect: an over-the-arm bouquet such as you'd see in a beauty pageant.   Usually oblong or non-symmetrical, these bouquets would combine the drama of the cascading style with the poise of a pageant winner. To the best of my memory, I've never photographed a wedding with this style bouquet (my Mom's bouquet was a pageant style arrangement!), but I imagine it's a style that will come back into fad soon!
Tussy-Mussy
I love this style mostly for its name and for the fact that it's a bouquet housed in a hand-held vase!  How fantastic would it be to walk down the aisle carrying coral dahlias in a tussy-mussy bouquet?!
Biedermeier
A true biedermeier bouquet is defined by the concentric circles of color that create a striped effect in flowers. A very exciting bouquet with an eccentric twist, it's not a very common arrangement in my experience. Lauren's monocromatic brooch-and-posy bouquet is almost a true biedermeier but without the extra drama of multiple colors.
A Note on Boutonnieres 
Creating a complimenting piece for bride and groom is so fun — especially with fun twists like the addition of a miniature wrench in the boutonniere. I loved Jennifer's pink bouquet accented with gold, but I especially loved that Mark's boutonniere coordinated in both flower style and accent.
(Psssst. I will never spell boutonniere properly. Spell check  suggested I meant "irresponsible" when I tried to spell boutonniere from memory. :-P)
Now it's your turn! Which wedding bouquet speaks to you? Let me know in the comments!