Jordan & Kristina's Heron's Bridge Wedding in Abbotsford, BC was everything a wedding day ought to be: chock-full of friends and family, filled-to-the-brim with belly laughter and inside jokes, decked out in flowers, and surrounding two of the most delightfully wonderful people ever to grace this planet.  Family and friends flew across the continent (and from other continents!) to witness the wedding day and celebrate the start of a wedding day, Aunts and Uncles poured hours into the decorating and preparing of the venue, Kleenex needed to be ever-present, and no eye dared be dry (not even mine) during the most heart-felt of heart-felt speeches.
The bridal party relaxed with mimosas and snacks while Natacha Trottier pampered and dolled and prettified the already stunning gals.  The eight bridesmaids flitted around Kristina, gently celebrating their best girl on her wedding day.
As Kristina stepped into her stunning Monica Loretti gown, the giggles (and tears!) settled in.  Isn't she stunning?!

Walking down the stairs at Heron's Bridge to meet her dad was one of the many emotion-filled moments of the day.  You're so beautiful, is what I'm pretty sure he whispered a couple of times as he met his daughter in her wedding finery.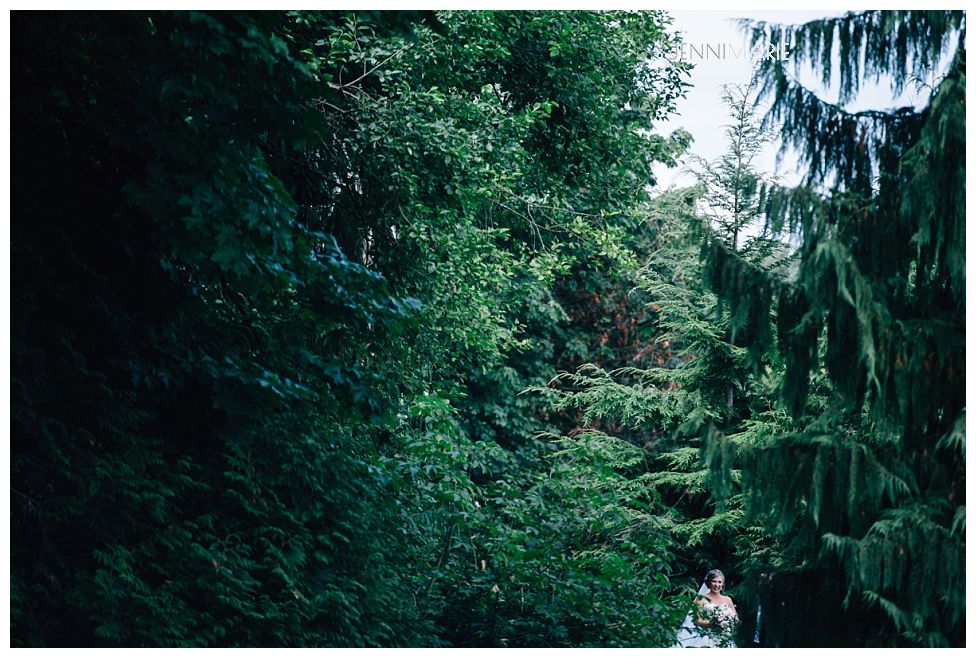 Crossing The Bridge for a Heron's Bridge Wedding is now my favorite wedding ceremony entrance ever. I blame Anne of Green Gables for my infatuation with the romance of a bridge, but walking across a bridge to meet your groom? It's the ultimate in lovely!
He quoted vows to her, heart-filled and tear-inspiring.  #notcrying #stillnotcrying
She claimed his vows were better, but I say its a tie. 😉
In what was one of my favorite moments of the day, Jordan & Kristina slipped into the gazebo for a time of prayer with anyone who wanted to pray over their marriage.  What a beautifully powerful showcase of the community surrounding them!
In a testament to the fiercely loyal friendships  they've cultivated over the years, their bridal party was one of the larger and most dedicated groups I've ever had the privilege of photographing. I loved watching each of these people celebrate their bestests and the beginning of a marriage.
I'm in love with Kristina's bouquet by Confetti Floral!  Kari always does such spectacular work and this was no exception.
This. This is my favourite photo of the day for its raw, unfettered, exuberant happiness.  But please don't make me actually pick a favourite!
Kristina, wow! You're amazingly gorgeous and unbelievably kind.  I loved watching you so selflessly serving your friends and family on the day that everyone was poised to serve you!  What a gem you are – beautiful inside and out!
Gracious, Kristina! I'm going to say it again: you're so gorgeous!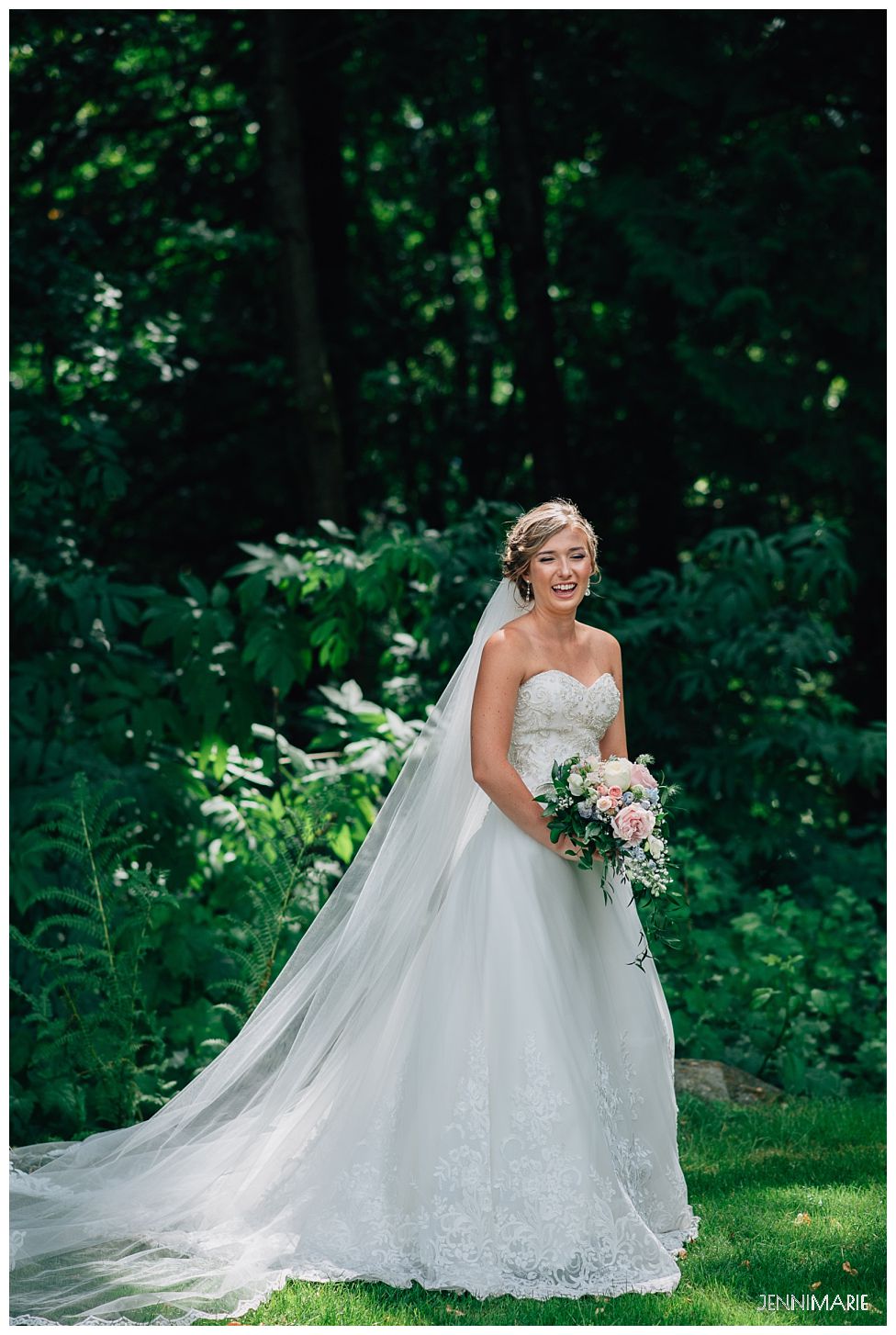 As proof of how deeply Jordan & Kristina care for their friends, they set aside almost two hours on their wedding day just to be with their guests.  Sipping Italian sodas, playing games, and lounging on the lawn, Kristina & Jordan took time to visit with the people who had traveled to celebrate.  And when I say traveled? I do mean travelled. I heard of at least six countries represented, and I'm positive that isn't an exhaustive list.

It's all in the DEETails.
(Too punny?)
See what I mean by emotion-filled day?!
What a perfectly lovely wedding day, you guys! Thanks for being so fantastic and for making me feel like one of the family.
Venue: Heron's Bridge
Dress: Christinna's Bridal
Flowers: Confetti Floral
Hair/Makeup: Natacha Trottier
Photography: Jenni Marie Photography