Fraser River Lodge Wedding in the Rain
Chelsea and Nathan's Fraser River Lodge Wedding was everything I dreamt it would be. I've been looking forward to their day since we first sipped tea together at the House of James coffee shop in Abbotsford, talking through their wedding plans and dreaming of the October day we'd spend together celebrating their marriage in Agassiz.  Nestled alongside the Fraser River with majestic views of the mountains, Fraser River Lodge boasts a herd of bison to watch and arguably the best venue staff in the Valley.  On even the rainiest of of October days, the Lodge is a perfect place to keep every guest dry and comfortable while watching the fog roll in off the mountains.
(Note I said "keep every guest dry" . . .  Chelsea and Nathan are troopers and were willing to stand in the rain for the sake of art. :-P)
Aren't Chelsea's flowers gorgeous?! Buckets Flower Shop in Abbotsford did a stunning job.
Speaking of stunning: Valley Weddings transformed the hall!  I love that the Lodge is so versatile and looks different every time!
Chelsea! You are SO GORGEOUS.
I'm not sure I've ever seen a smile as big as Chelsea's as she walked the aisle to meet her Nathan.

See the glee? Oh guys. You are so spectacular!
Chelsea and Nathan chose to have a wonderfully intimate wedding — small guest list, intimate reception, delightful lunch — and it was absolutely perfect. I especially love how they were able to take time to speak with every guest over lunch.  . . and made that a priority!
See what I mean by talking to every guest? Chelsea and Nathan served cupcakes!o It reminded me of when Carla and Michael dished ice cream cones for each of their guests — I loved that personal touch then, and I adored the personal touch now!
We didn't stand in the rain until after everyone had gone home and they were ready to change for their drive away. It's in moments like these that I am so grateful for rain and the magical (chilly :-P) opportunities it provides. (Have you seen Emileigh and Isaac's engagement photos in the rain? Magic, I say Magic!)
SEEE? Magic.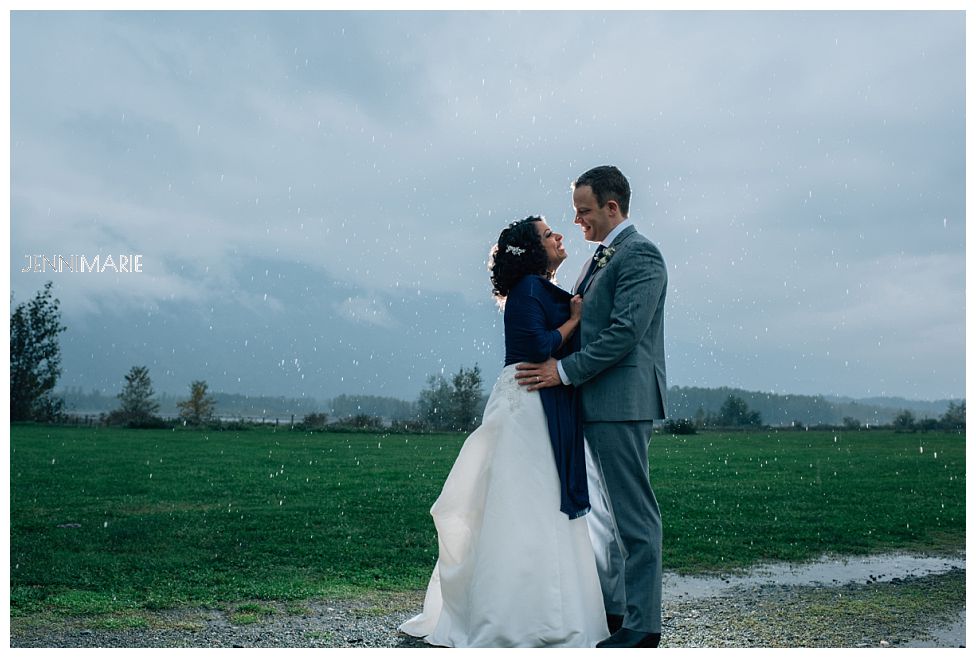 Chelsea knows how to work it — it helps, of course, that her dress is just smashingly perfect!
Pssst. How perfect is it that this very musical couple (she's a talented artist and they met because he was her online guitar teacher) took time to play the love song they wrote together on their wedding day! I can't even, guys. Just can't even.  Thanks for letting me celebrate with you guys!
Decor: Valley Weddings
Dress: David's Bridal
Flowers: Bucket's 
Venue: Fraser River Lodge
Videographer: VanWeddings
Photography: JenniMarie Photography