Jennifer & Mark's Rowena's Inn Wedding
As her Rowena's Inn Wedding unfolded, Jennifer was deciding which jewelry to wear, slipping on her (comfortable and cute) Keds for Kate Spade  wedding shoes, and stepping into her dress. In the nearby cabin, Mark was counting the minutes until he could be with his bride (go ahead: let's all say "awwwww") and putting on his custom-designed, Pinterest-inspired wrench boutonniere.
Surrounded by her best girls, I especially loved seeing Jennifer relish the now of her wedding day and the wow of each milestone through out the day: putting on the dress, seeing her groom for the first time, starting the ceremony, taking portraits, entering the reception, listening to the speeches, watching the sun set over the river as her nearest and dearest partied it up inside.

Nestled against the dramatic backdrop of the Harrison River and its surrounding mountains, a Rowena's Inn Wedding is nothing if not beautiful.  With elegance juxtaposed against the wildness of nature, the Inn is everything a Fraser Valley wedding venue ought to be: picturesque and nature-filled.
Fully, completely, and finally married, we explored the Rowena's Inn grounds by golf cart (note to self: a giddy groom behind the wheel of a golf cart is a delightfully amusing sight, indeed) and watched the eagles soar overhead before going back to enjoy cocktail hour with the guests.
What a good looking crew! Am I right or am I right? I especially love the bridesmaid dresses from The Bay. Such a magically simple elegance.
How's this for a fabulous portrait backdrop?! 
I am in love with the bouquet that Jorbelina Flowers designed for Jennifer. So classy with a gold touch of whimsy!
So, Jennifer: you're beautiful! Like, wow so gorgeous!
Someone forgot to tell Jennifer's nephew that it isn't polite to upstage the bride. 😉  But with eyes that big and a hat that suave and eleven months of adorable cuteness on his side, he just can't help himself!  =D
This cake! How simply elegant is it?! Made by Jennifer's long-time friend and one of her bridesmaids, it's not only beautiful it also includes my favorite boston cream filling AND features deer antlers from one of Mark's conquests. 
Speaking of deer . . .
I love when a bride includes enough time in her wedding day timeline to allow for visiting with her guests.  Whether that's before dinner or during dinner or after dinner, the details are inconsequential. But the celebration of the people who walked alongside them during their relationship? It's perfect.
And then: the party!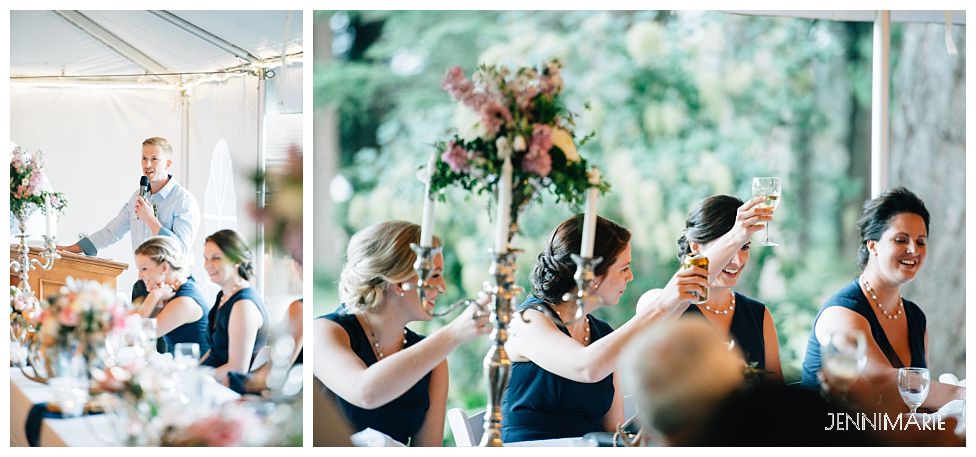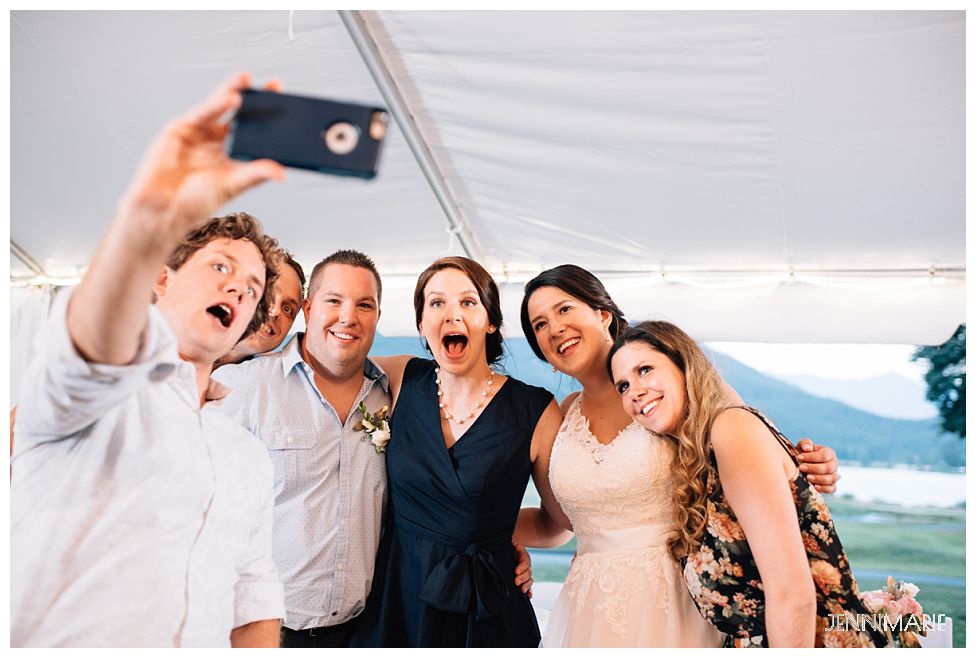 With special thanks to the talented vendors who made Jennifer & Mark's Rowena's Inn Wedding so lovely:
Venue: Rowena's Inn
Dress: Lisa's Bridal
Flowers: Jorbelina Flowers
Bridesmaid Dresses: The Bay
Shoes: Keds by Kate Spade
Photography: Jenni Marie Photography