Matsqui Community Hall Wedding
When Jenny described to me her wedding day vision, I heard all my favorite words: "blush neutrals" and "vintage lace" and "oil lamps."  I was hooked.  Seeing the reality of their Matsqui Community Hall wedding, though, the vision exceeded expectation. Dave's many bouquets of roses (dried in pristine perfect) decorated the ceremony space, Jenny's collection of oil lamps meant the ambiance was perfect inside the reception, and the beauty of lace table runners made my heart go pitter-patter.
The hand-painted design on her paper suite only adds to the genuinely beautiful day celebrating Jenny & Dave.
(P.S. I now think all wedding rings need to be photographed in baby's breath. So lovely!)
Dave started his day promptly, sitting on a picnic table at Matsqui Village Park awaiting the arrival of his bride.  Onlookers apparently were placing bets on whether he'd been stood up, though no one needed to worry: he was early and the bride was right on time. The wait was worthwhile, though, as they snuggled under the arms of the most lovely row of weeping willow trees, sheltered from prying eyes and in their own little beautiful world. (If you follow along with the fun, you saw a peek of this decadent beauty on my Instagram story.)
After a first look to beat all first looks, we moved into the ceremony. Jenny arrived accompanied by both her parents (I'm a little biased, since that's what I chose to do too!) and walked down the aisle the melodies of a beautiful string trio.  Do you seeee how happily she looks at him?!
And just like that: married!!
I can't get over how perfect the lace detail is on her dress and how elegant her shawl is. 
And would you take a peek at those smiles?!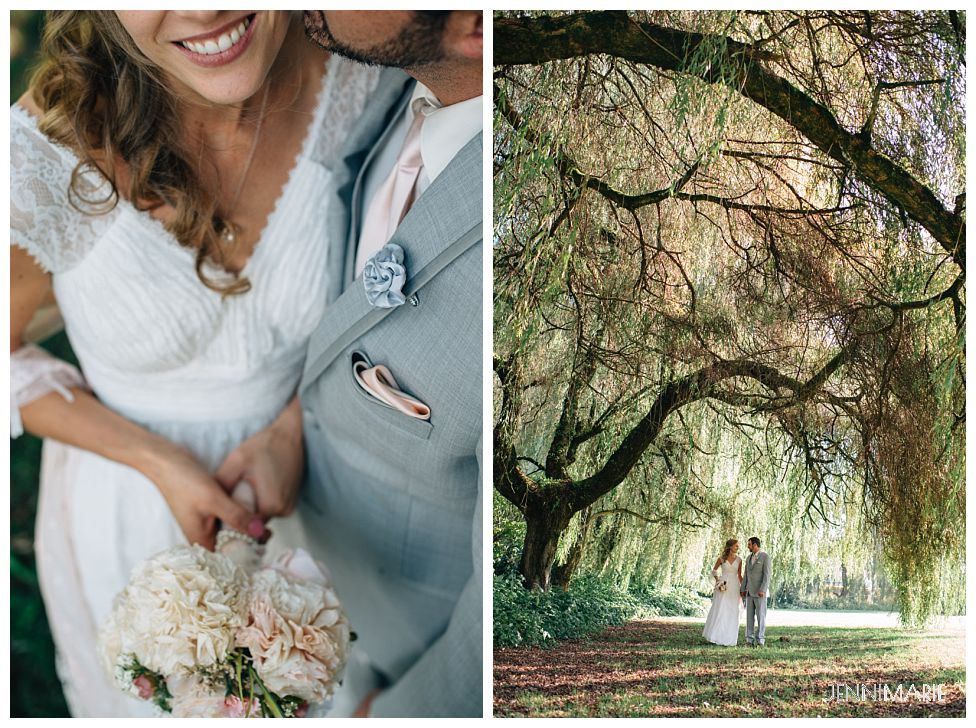 Her David's Bridal gown is perfection. Especially considering she's Dave's Bride. (Badumpcha.)
I love this photo, below:  I was shooting from the above angle and Dave was standing to my right admiring his bride from the below angle. He said, and I quote, "she looks so beautiful! you should take a photo from where I'm standing."
So I did.
Even surrounded by an awesome bridal party in such a perfect "blush neutral" color pallette, Jenny & Dave's love shone brighter than even the brightest of hair. 😉  (I'm really punny today, aren't I?! Too much? Or just enough?  :-P)
Back at the venue for their Matsqui Community Hall wedding reception, the party got started with dinner and all the best Christian Pick Up Lines (Instead of clinking glasses, guests had to share their best, cheesiest, Mennonite-est, Christian-est pick-up lines in order to inspire Jenny & Dave to kiss.) I wish I could remember the best ones, but I blame these cheesy lines for all my puns today:
"Now I know why Solomon had 700 wives … because he never met you."
"How would you like to join my Purpose Driven Life?"
"So last night I was reading in the book of Numbers, and then I realized, I don't have yours"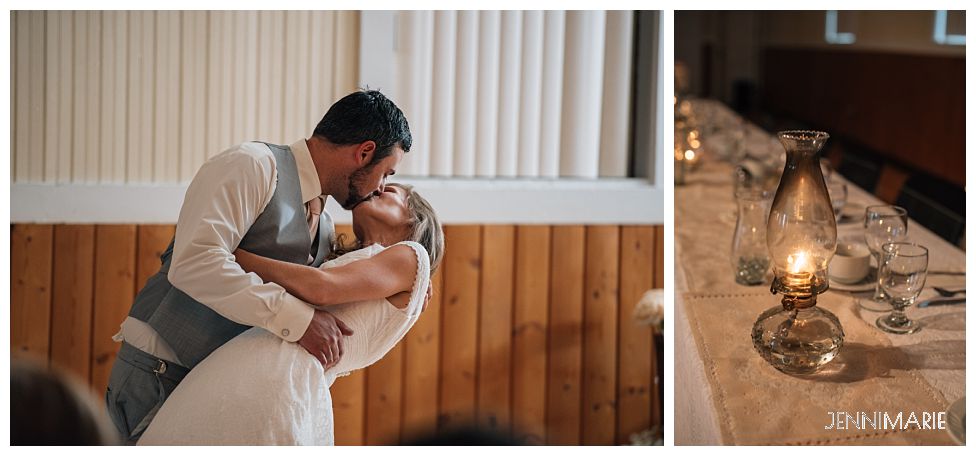 I loved celebrating with Jenny & Dave at their Matsqui Community Hall Wedding. What a perfect day!