Best Wedding Reception Games
If you find yourself contemplating wedding reception options and trying to decide whether to play games after your guests have finished their meal, the decision should be easy: play the games!  Over my years as a wedding photographer (and wedding guest! and bride!), I have seen many wedding receptions and (most of!) my favorite wedding receptions have been filled with laughter and games.  The best wedding reception games are the ones that encourage laughter, build camaraderie among the guests, make lasting memories, and create awesome photo opportunities.
Best Wedding Reception Games: The Shoe Game
The easiest and best wedding reception game involves the bride and groom sitting back-to-back, holding one shoe in each hand. The DJ or Master of Ceremonies asks a series of questions which the couple answers by raising the appropriate shoe.
"Who has the best fashion sense?"
"Who said 'I Love You' first?"
"Who will take out the trash?"
"Who is messier?"
"Who wants kids more?"
"Who will do most of the cooking?"
"In a fight, who is most likely to say 'sorry' first?"
"Who tells the best jokes?"
"Who's car is the cleanest?"
"Who loves who most?"
While some questions might easily be answered by both the bride and groom, eventually you'll find some…confusion…and the outcome gets hysterical! (For more sample questions, try Holidappy's list of 60 sample questions!"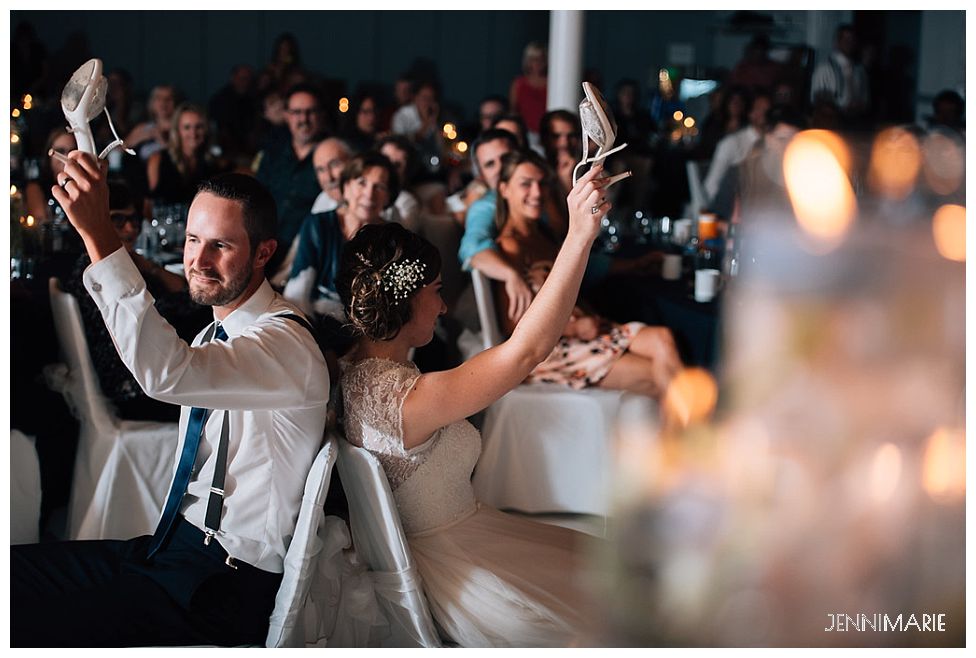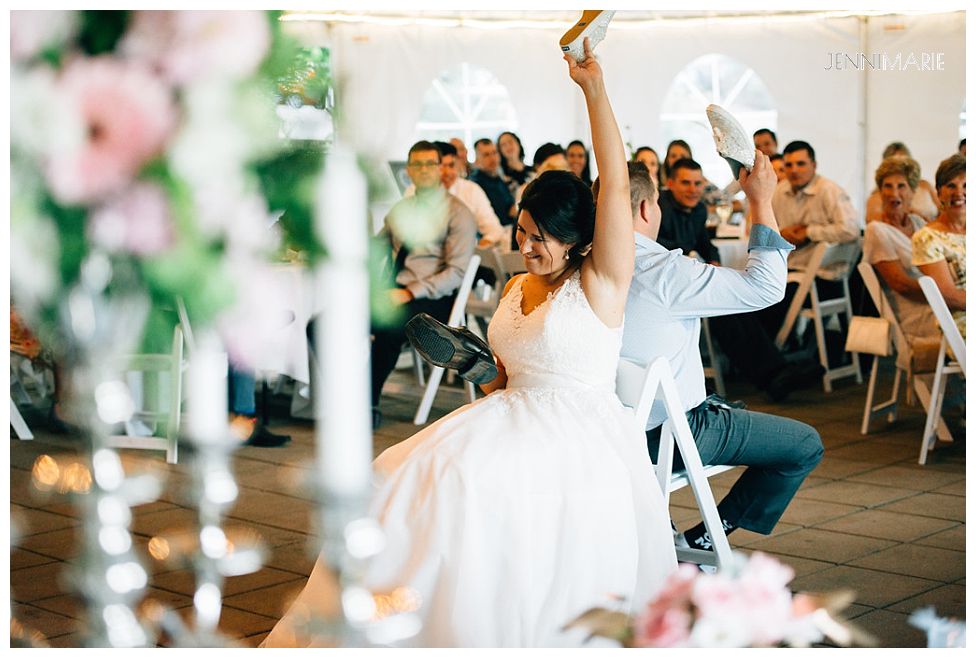 My favourite part, of course, is when the answer isn't obvious and the bride and groom offer opposite shoes in response to the question.
Best Wedding Reception Games: Identify Her Elbow
After blindfolding the groom, have all the bridesmaids sit silently in a row with the bride.  Someone guides the groom from elbow-to-elbow to see if he can properly identify the elbow of his bride.  I've only seen this game played twice (once as a guest, so I have no photos to prove it!) and both times it was absolutely a stitch to watch the girls try desperately not to laugh while the groom caresses their elbow.
I mean, look at that suppressed laughter! You know all the guests were in stitches watching this unfold!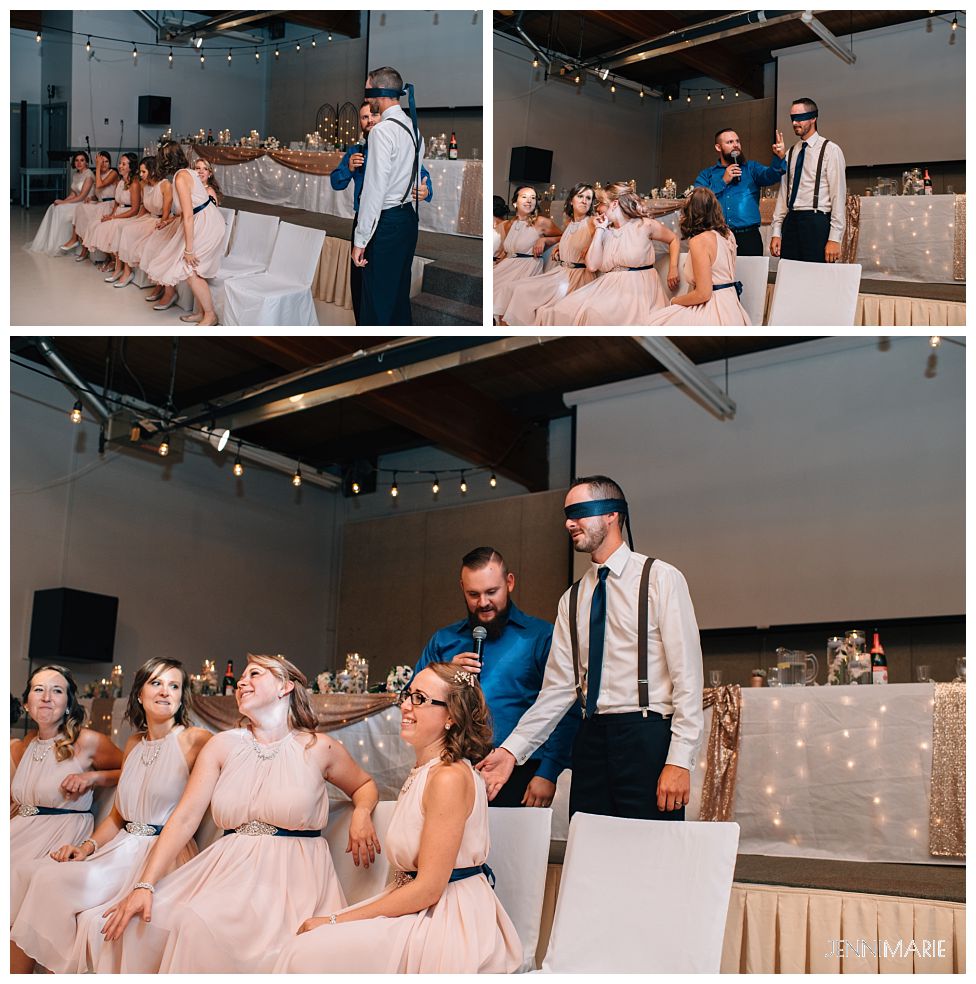 Best Wedding Reception Games: Identify His Knee
The bride's version of "Identify Her Elbow", I think "Identifying His Knee" is even more a stitch.  How often do you see an entire group of groomsmen roll up their pant leg and stand on chairs in the middle of the wedding reception? Never? Didn't think so.
After blindfolding the bride, the groom and groomsmen stand on a row of chairs and roll up a pant leg to expose a bare knee. Guided from knee-to-knee, the bride touches those hairy specimens to identify her groom. THERE IS NOTHING FUNNIER. Truly. Just believe me and DO IT!

My personal favourite moment of this particular game?  When the bride felt one knee and exclaimed – loudly – "What is THAT?!"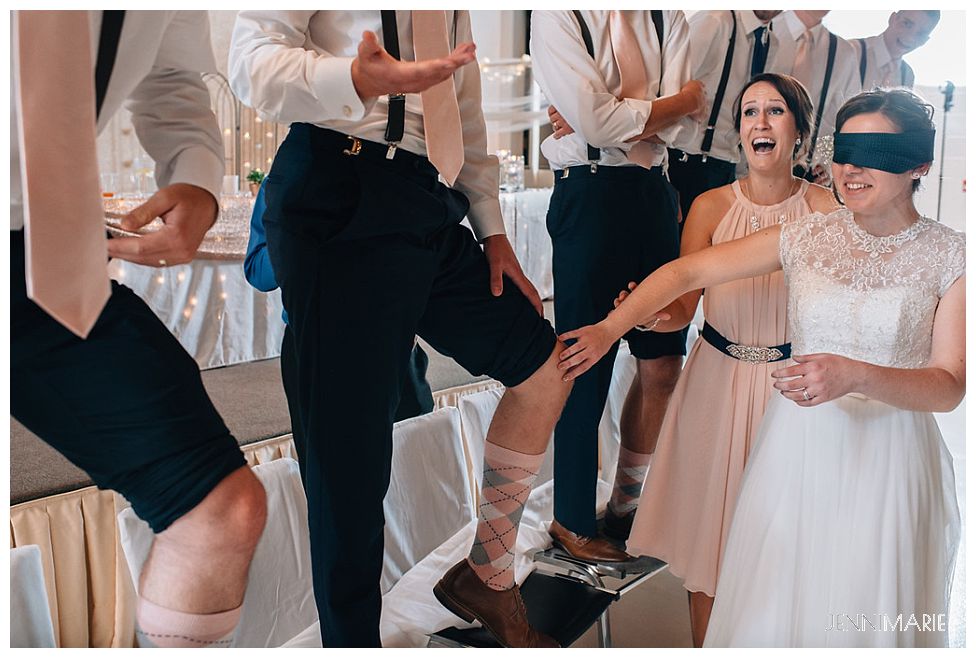 And when the bride identifies the wrong knee? I dare you not to laugh.
Best Wedding Reception Games: Lawn Games
Any outdoor wedding reception can benefit from a few carefully placed lawn games and a couple of specially planted lawn game experts.  Whether it's a rousing game of corn hole or a lawn bowling variation that defies standard rule-making, giving guests an activity that encourages community and fun and interaction? Brilliant.
The best part? You can buy lawn games anywhere — even Amazon!  
Pictured here is Koob. I have no idea how to play, but these guests obviously had a blast and I love that such a classy wooden game is both made-in-Canada AND available on Amazon.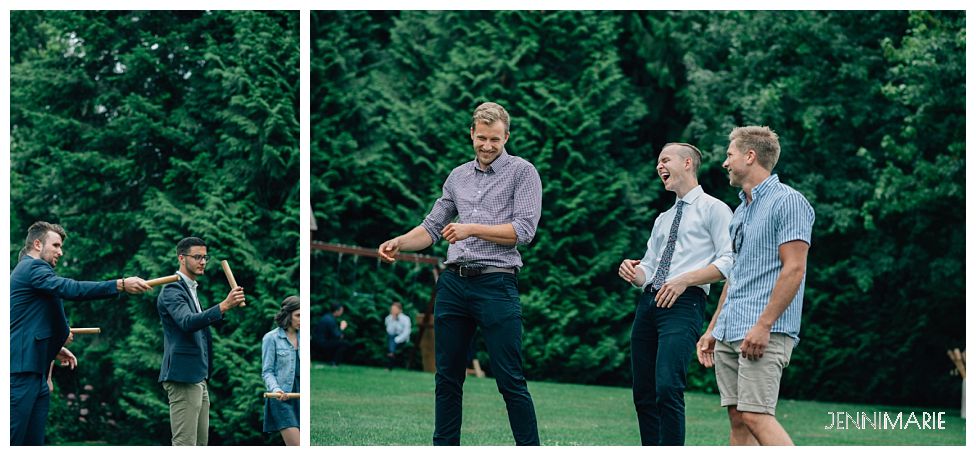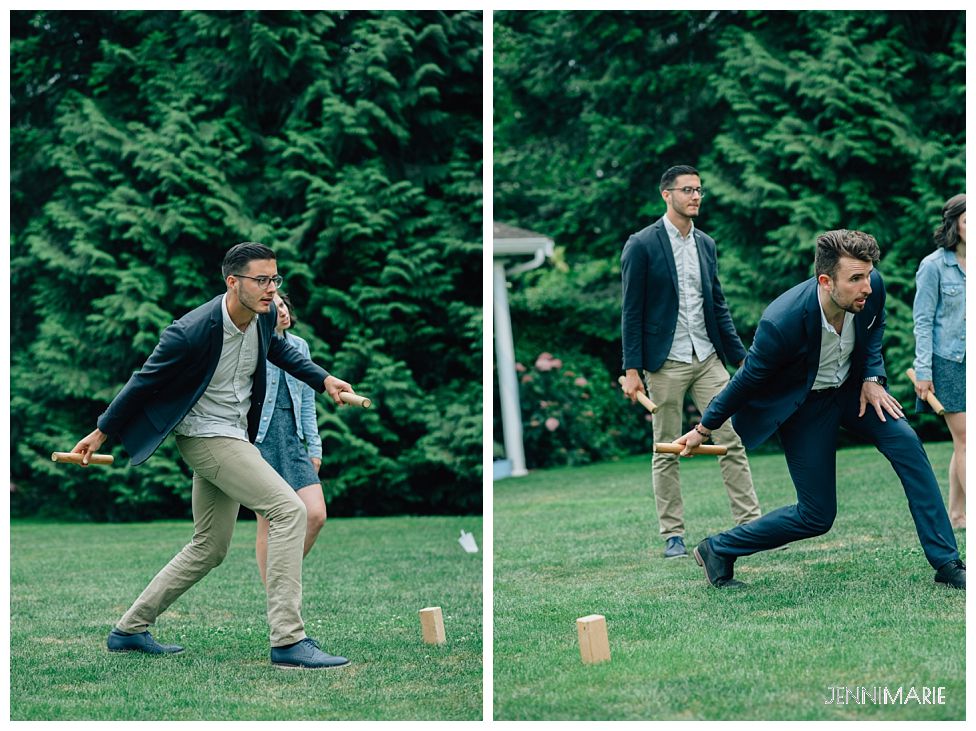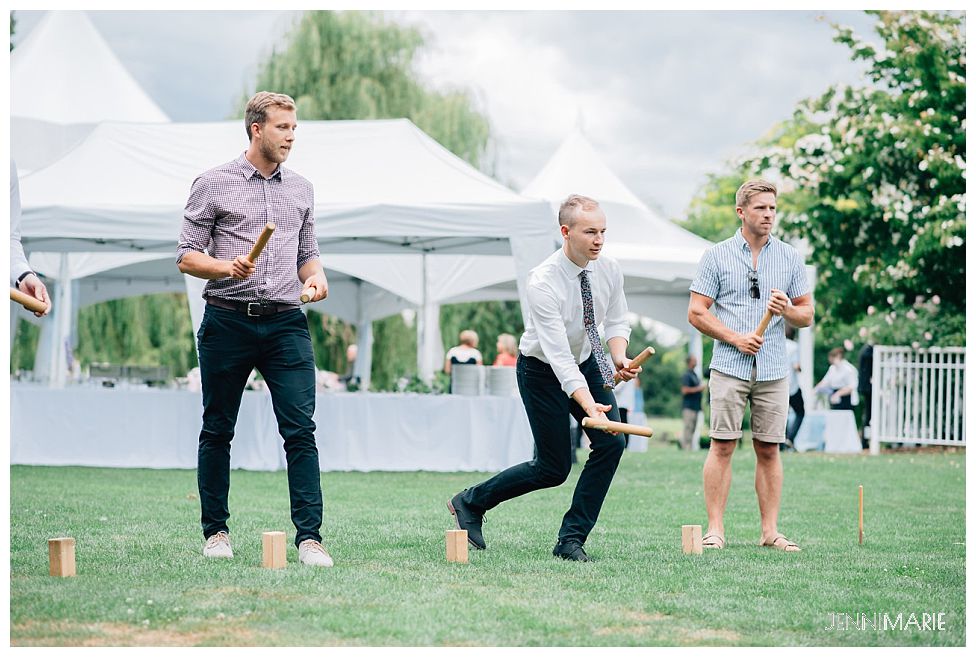 Corn Hole is a classic favourite, if you have any sense of aim with a beanbag. 😛 (For the record, I don't.)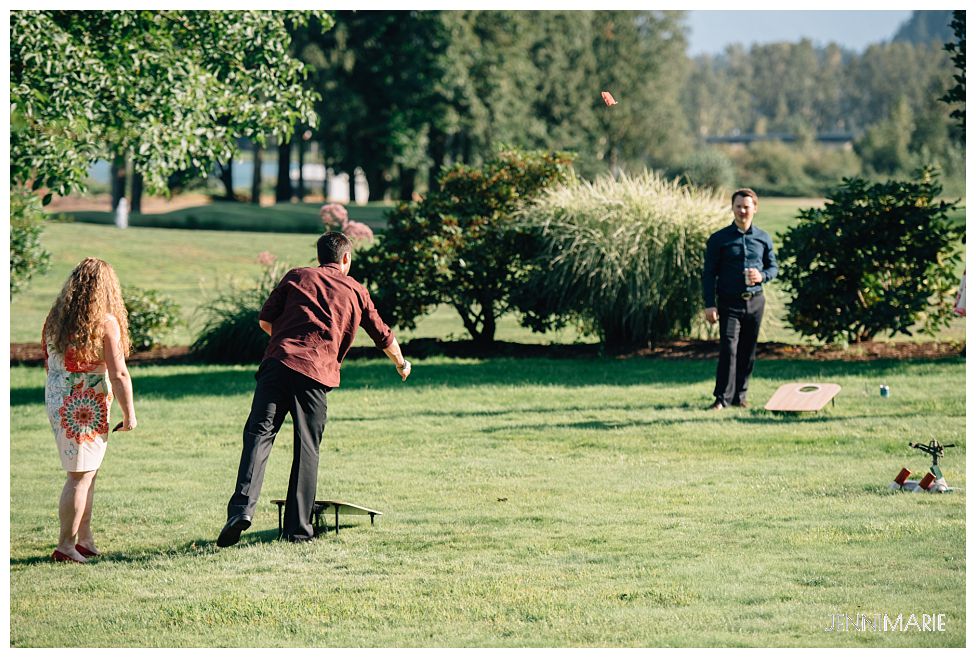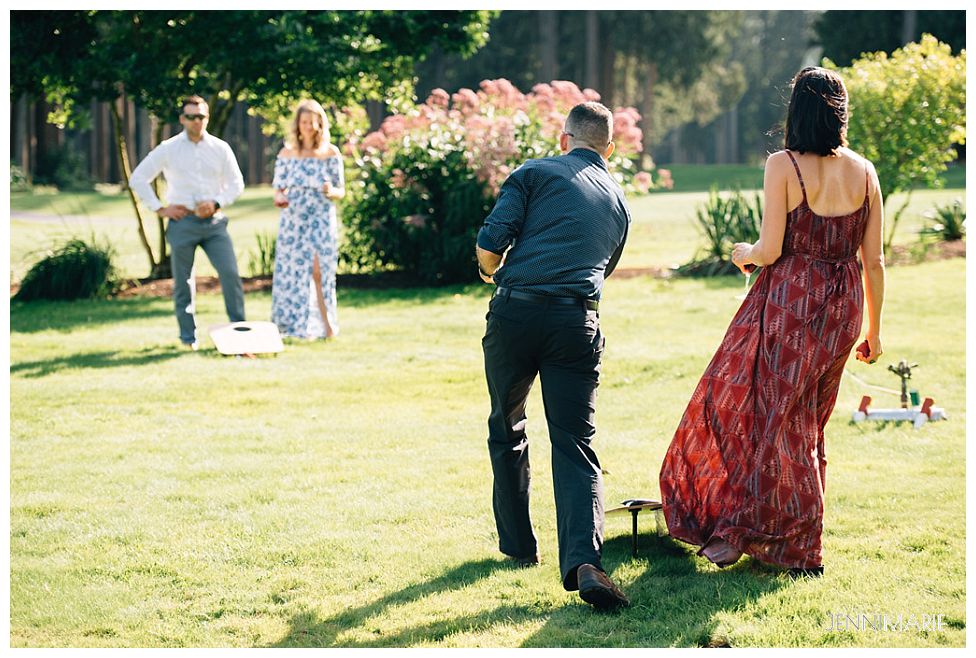 Best Reception Games: Honeymoon Fund
Only plan this game if you're willing to smash or be smashed when it's cake-cutting time.  The whole goal? Let the guests put their money where your mouth is and decide who gets to smash the cake! Plus, the loonies and toonies go directly to your honeymoon spending fund so benefits obviously outweigh the costs.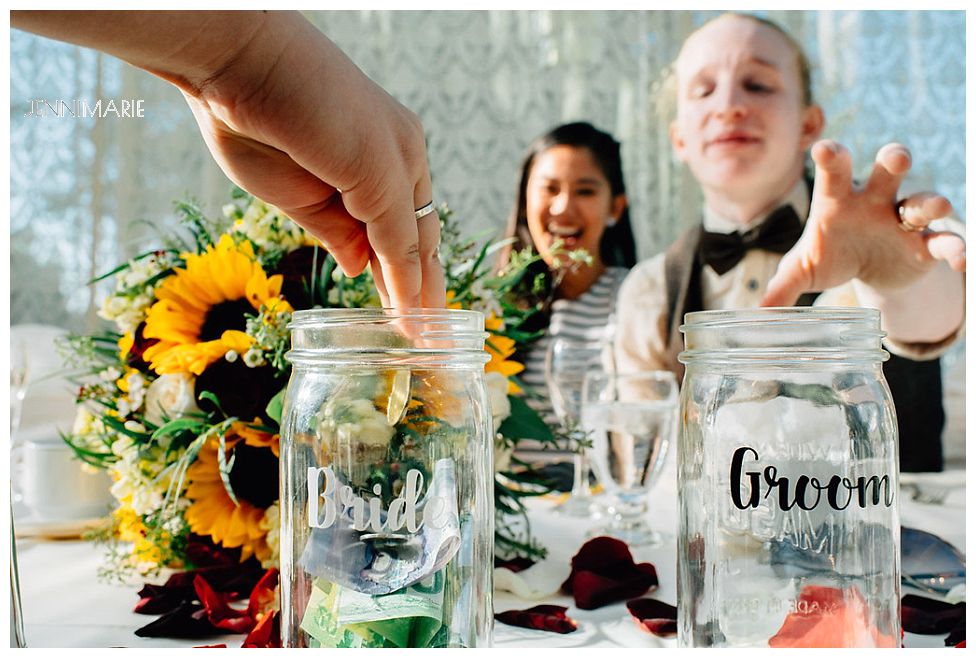 Best Wedding Reception Game: Work For A Kiss
If the idea of incessant clinking during your wedding reception is less than appealing, make your guests work for the privilege of watching you kiss! 😉  All you need is a large dice and a list of actions.   Guests are warned not to clink their glasses and to instead take their turn rolling the dice.  Each number rolled corresponds to an action required before the newlyweds will kiss (with a few "free" options thrown in for good measure).
Sample Actions:
Guest (and their table!) sing a verse from a love song

Bride and Groom get to kiss as long as the guest can hula hoop

Guests demonstrate a kiss for the bride & groom to mimic
Bride and Groom get to eskimo kiss
Guest has to give a (short!) toast
Guest has to answer  a trivia question about the couple
(Pssst to make it extra interesting: rig the hula hoop with fishing line before the reception! That will be one LONG kiss and NO ONE will be able to see the secret trick to hula hooping success!)
One note: know your guest list!  Not everyone enjoys participating in group activities like this, so make sure everyone knows that participation is voluntary!
Best Wedding Reception Game: Sell the Groom's Tie
Yes, that's right: sell the groom's tie, auctioning pieces off to fund the honeymoon!  The more money paid, the larger the piece of a tie the guest received. This is a Brazilian tradition, so adds an international flare to your reception, but requires enthusiastic groomsmen to hype the crowd and a willingness to literally scissor up the tie and sell it off.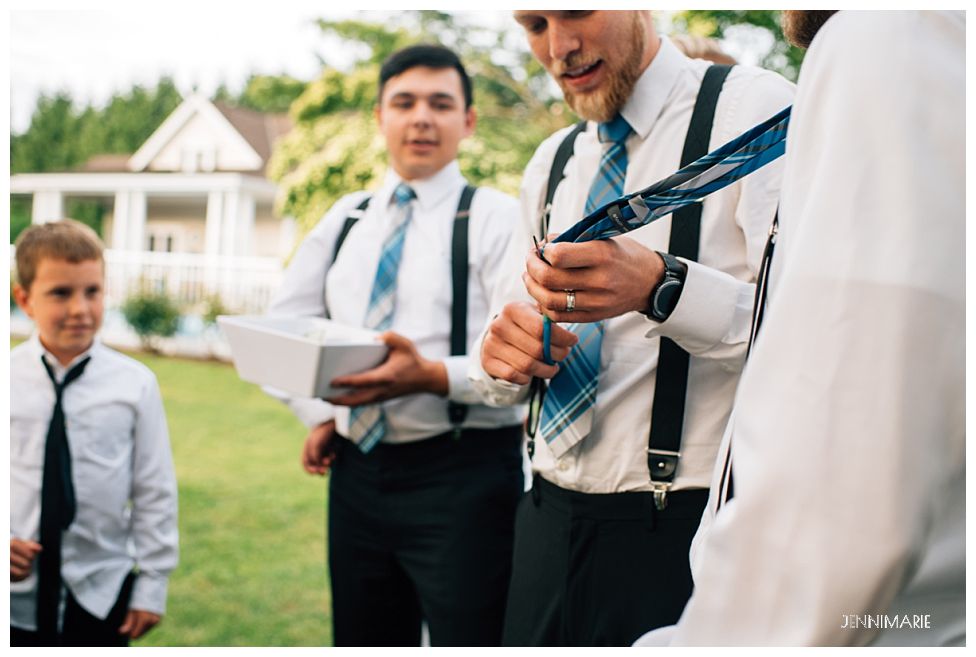 Don't forget to Pin this post for future reference!