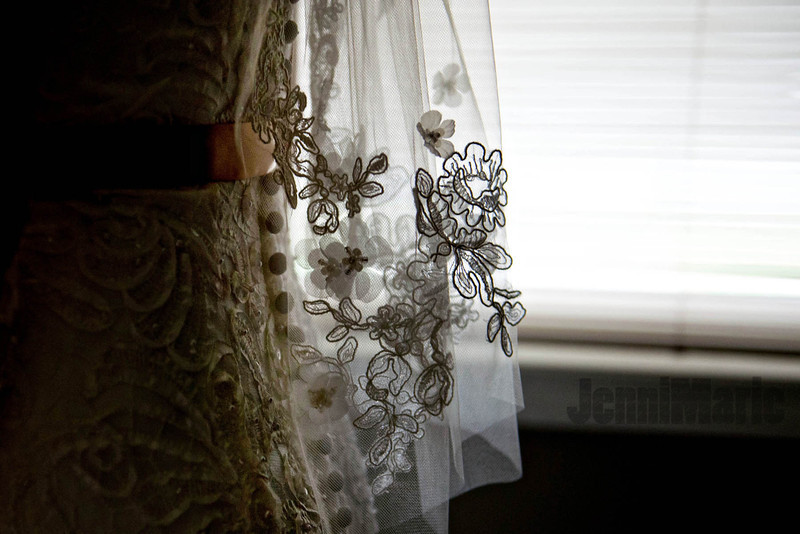 All week long, the weather forecast was inspiring.  Mostly sunny.  A high of 14.  No rain.  The perfect combination for an Autumn wedding.  Sublime, really!  The excitement was contagious, the joy abounding.  Even when Brittany arrived at the hair salon with clouds thick across the sky, and fog enveloping the community, the glee was contagious.  Nothing could dampen her day.  Nothing. 
In a room of iPhones and laughing girls, Brittany prepared for her wedding day.  Hair. Makeup.  Jewelry. Dress.  All the usual elements, of course, but coupled with relics of her childhood.  One wall held the high school graduation photos, another wall documented the growing-up years.  Puttering around the room was the ever-present family dog, lazily watching the day unfold around her.
(Pssst. These might be my favorite bouquet of all time.  Jiminy!)
After a flurry of minor delays (inevitable considering the magnitude of a wedding day!), everyone landed safely at the church and settled into their respective places.  The Moms up front.  The bridesmaids gliding down the aisle.  The flower girl dropping her rose petals like a pro.  Dad holding his daughter's arm, ready to give her away.  And then it was time.
Time for Stephan to see his bride.
Time for Brittany to meet her groom.
Time for the vows.
Time for the rings.
Time to be husband and wife.
First stop as the newly married?  Starbucks, of course!  Stephan drove.  Brittany navigated.  And the barista gave them their "bride" and "groom"  coffee experience.
As the  troopers-of-a-bridal-party stood shivering on top of a foggy Burnaby Mountain, the sun came out.  There was that perfect weather the forecasters promised.  Finally.  With sun dancing with the fog, playing hide-and-seek among the clouds, the sun warmed away the chill and eventually scattered the fog entirely. And the best part?  The matching umbrellas didn't need to be used, after all.
As the sun set on their wedding day, the party started over at Sunset Community Center where Brittany & Stephan celebrated with their family and friends, embracing the beauty of their wedding day and basking in the glow of the love from all around.
Oh, and relished the inevitable cake-in-the-face.
Ceremony: West Coast Christian Fellowship
Reception: Sunset Community Center
Catering: Seasonal Experience Catering
Hair Styling: Ambience Salon