If a photo is worth a thousand words and if sharing is caring, then sharing photos is the ultimate gift.
I can't tell you the number of times I have listened to someone tell me "I'll send you these photos!" and they never do or (conversely)"My iPhone was full of [unshared] photos and now they're all lost because my phone died."
If a photo is worth a thousand words and if sharing is caring, then NOT sharing photos is the ultimate disservice.
I get it, though:  all those photos and nowhere to go!  Are all the Christmas photos really worthy of a facebook post?  Maybe not.  Does every photo from Halloween need to show up on Instagram? Definitely not.  Do I really want everyone and their cousin looking at all the family's photos and all the family's outtakes? Nope. Not at all.
Enter my hero: Smugmug.
With two clicks and one drag and a copy of a URL, I create a private and personal album on my Smugmug for every family and friend event I photograph.  Cell phone photos? I upload 'em with the app (for Android or iPhone) straight from my phone.  DSLR photos?  They're online after I color correct and export via Lightroom.
If I've ever taken photos of you, you've (probably) received a smugmug album from me.  Professionally, I use three categories – Portraits, Weddings, Portfolio – to categorize my photo shoots and showcase client photos with high resolution efficiency and privacy.
Personally, I use Smugmug's capabilities to quickly and easily share pictures with friends and family.  By using Smugmug, I can upload quickly to a centralized, private location and my family can download all or some of the photos for their own use.
While my family was all together for Christmas, for example, I emptied my CompactFlash card each evening, culled the pictures quickly, and then uploaded to "A North Carolina Christmas" in my "Travel" folder.  Now everyone can browse, download, share, and archive their favorite photos with ease.   Ella pictures?  Quickly shared to the scattered family, the doting Michigan grandparents, and the BFF's across the continent. Family photos?  Everyone can choose and keep their own favorite (no need to pick just one by committee!).
My favorite function is one of the newest from Smugmug:  each album shared can be Downloaded with one click by anyone who has access to the photos.  Talk about easy sharing!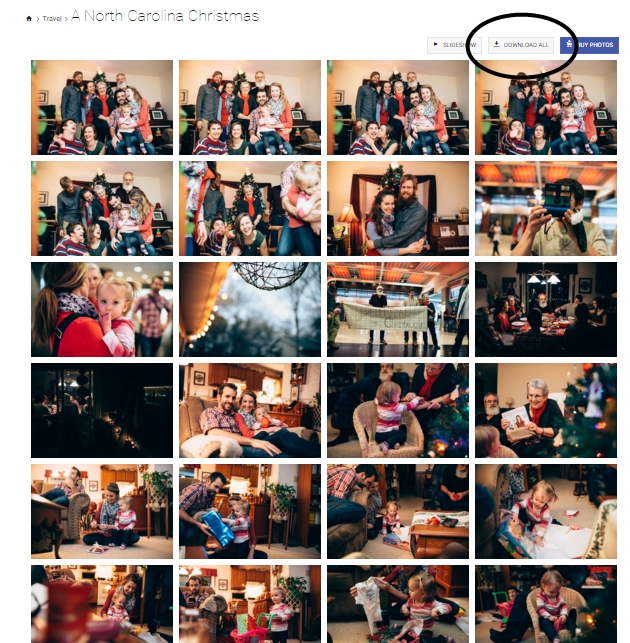 With Smugmug, I am also able to back up my own photos with a couple clicks: travels to France and Uganda and Tennessee and Vancouver Island are all archived at my fingertips and accessible from any internet-enabled device.  Events (birthday parties, family dinners) organized and sorted for future sharing. Photography projects (blog posts, Beauty in Rain, personal photos) are sorted and searchable.
Each individual photo is also downloadable and shareable, with EXIF data and keyword searching and comments fully enabled.
Smugmug is an integral part of my  photo process and I am so grateful for the five (six?) years of their expert service and speedy systems.
Although I love Smugmug, they are not paying me to rave about their services.  However, if you use my referral link to sign up for your own account, you will receive 20% off and I will receive a renewal credit toward my own subscription. Just sayin'.