Clayburn Village Schoolhouse Wedding
When reading this blog post about Amy & Brendan's Clayburn Village Schoolhouse Wedding, there are two things you need to know: 1) they have been friends for nine and a half years (dating for six of those!) and 2) they have a wedding party filled with friends who have been around that long, too (the ultimate squad, as you'll see later).  Why is this relevant?  Well, when you have that much friendship and celebration and anticipation and joy  poured into one wedding day it's inevitable that the cheek-splitting smiles will be numerous (and the ceremony tears will be abundant).
Amy & Brendan's Clayburn Village Schoolhouse Wedding day started at Langley Evangelical Free Church for as heartfelt a ceremony as I've ever seen.  With live music (ohmyheart!) and a unity sand ceremony and bridesmaids crying down the aisle and guests wiping away tears before Amy even entered the church, these two and their pastor poured Christ and love into the beginning of their marriage for a rock solid foundation.
Remember how I said the bridal party has been around since (practically) infancy?  Check out their surprise celebration for Amy & Brendan: a confetti popper exit! =D
I love a Clayburn Village Schoolhouse Wedding for many reasons, but its bounty of flowers in the garden is now on top of my list. Such a gorgeous corner for portraits!
Isn't this a good looking crew? Such a fantastic group and so fabulously dapper!
I am simply in love with Amy's dress from Cocomelody. The detail on the back is absolutely sublime and you should see how well it swishes!
During the speeches, much of the commentary revolved around Amy & Brendan's ability to communicate with a single glance. I think you'll see what I mean when I say their love is effervescent. 
See? Check out the swish in that dress!
Moving inside the Clayburn Village Schoolhouse, Amy had decorated in purple – her favorite color – and taken full advantage of the chalkboards that line the room.
(Remember how much I love a good reception game? The shoe game is ALWAYS a win.)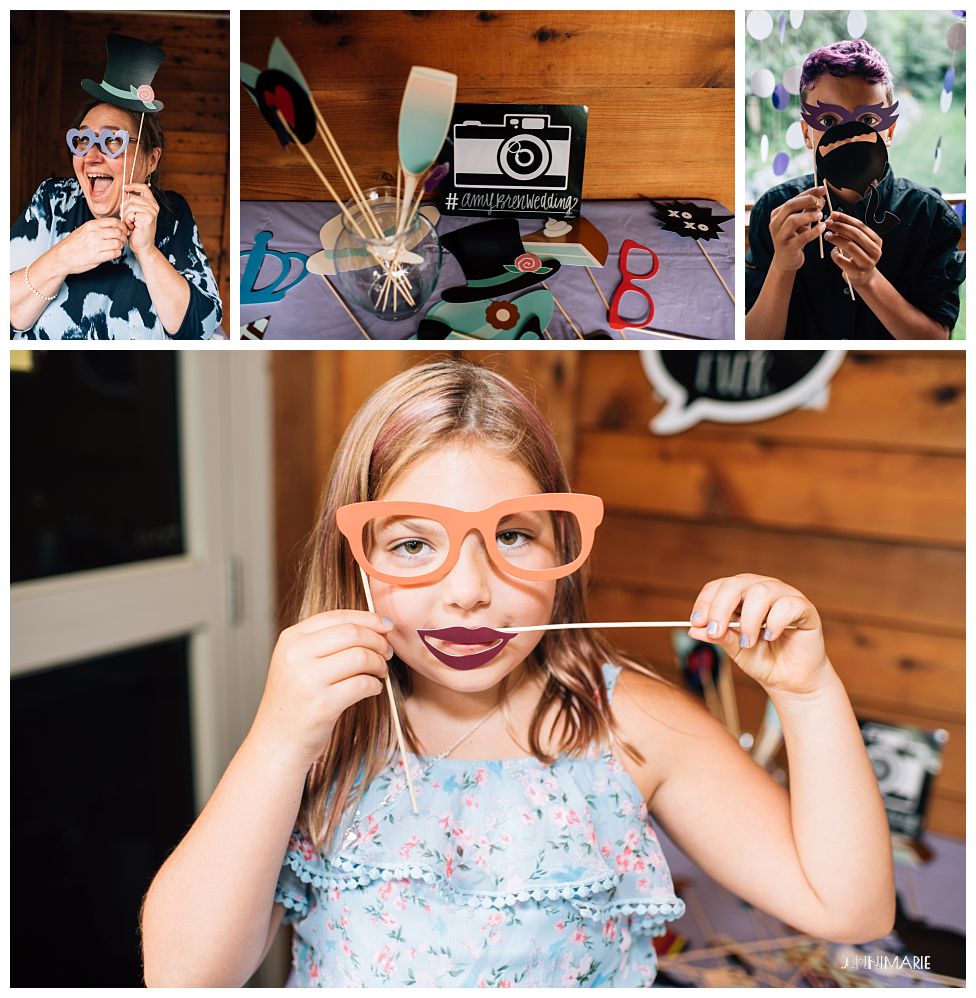 Their first dance was a beautifully elegant choreographed "Clear" by Needtobreathe so, really, you should click that link and have it playing in the background while you see these next few photos.
You are the moonlight in the sky that I'm pursuing
You are the reason for what I'm doing
You are the crystalline that keeps me from my ruin
You are the movement
You're the true north pointing back home
You are the constant, my constellation
You're the steady hands of a ticking clock that I'll come to rely on
You are the four winds
You're the catalyst of high hopes
You are the beauty
The sparks revival
You are the oxygen inside these lungs that's giving life to my bones
Remember how I said these friends had been around since high school? Not only did they cry beautiful tears during the ceremony and give amazingly poignant speeches during the dinner, but they hit that dance floor like nobody's business!
(And, yes, an entire line of people all jumped exactly at the same time. Thank you, guys. You're awesome. =D)
(Wait, WHAT?! The worm???)
And then? A grand exit like I've never seen before! Arm arch for the win!
Amy & Brendan's Clayburn Village Schoolhouse wedding was made extra beautiful by these talented vendors:
Dress: Cocomelody
Bridesmaids dresses: David's Bridal
Tuxedos: Moore's
Flowers: Newlands Design Studio
Linens: Valley Weddings
Cake: Tracycakes
Catering: Culinary Touch Catering
Seamstress: Janet Wesley
Venue: Clayburn Village Schoolhouse
Photographer: Jenni Marie Photography