Heronsbridge Wedding Abbotsford
Eric & Emily's Heronsbridge wedding  in Abbotsford, BC was a celebration of personality and Converse, of family from far and near, of sunflowers and sunglasses, and of laughter….loads and loads of laughter!
Any wedding day that begins with a beautifully styled sign, a bridge over calm waters, and a tulle-encased wedding dress is absolutely a dream.
But throw in ten pairs of Converse and bouquets of sunflowers? It's perfection!
Heartfelt details like a set of wedding rings first exchanged sixty-six years ago by the groom's grandparents? My heart, this day just keeps getting better and better!
The Heronsbridge bridal suite is ever beautiful and is yet another reason Heronsbridge is a sublime venue.
I overheard Emily (totally eavesdropping here!) tell how she was nervous walking to the bridge but once she caught her groom's eye, she knew it would all be alright. That's what I call a beautiful start to the happily ever after.
And this? This smile? That, my friends, is why I love a first look.
Once Emily and Eric had enjoyed a few minutes reveling in their day and cherishing the start to the festivities, we transitioned directly into portraits and took full advantage of the beauty that is a Heronsbridge wedding — no need to go anywhere or find anything else for photo opportunities! Everything you could want is right here on ten acres of bountiful beauty.
As the ceremony began, two things particularly stood out as magically perfect moments: first, the chalkboard signs that lined the aisle and listed the characteristics of love from 1 Corinthians 13. Such a great idea for wedding day decor and second, the mesmerized children that we so eagerly excited to witness the wedding that they sat in the aisle to get the best possible view. I loved it!
Before we could move into the REAL fun of the day, it was time to make things official and sign it all into legality. The high-five celebration was another of my favorite moments.
I'm always a sucker for a good wedding reception game and I loved this one:  each table competed for their position in the buffet line by being the fastest to produce a series of items (a sock, a necklace, a man's watch, an iPhone older than a 6, foreign currency, a five dollar bill, etc). Talk about a stitch!
Emily MADE THE CUPCAKES and I am reminded (over and over and over again) what talented brides I get to spent time photographing. Dude, Em. You're a gem! (Sorry. Too rhyme-y? Maybe. Oh well.)'
Eric's best man has Brazilian heritage so led the groomsmen in a little Brazilian wedding tradition: selling pieces of Eric's tie.  The more money paid, the larger the piece of a tie the guest received. I laughed so hard I barely could breathe.  What a brilliant tradition! (And a nice little addition to the honeymoon fund!)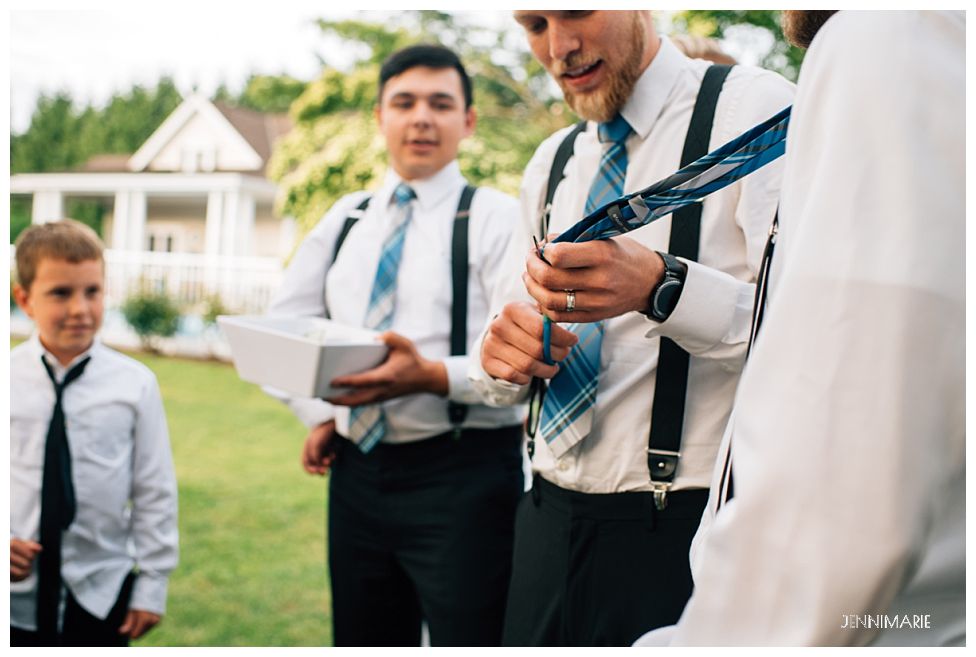 Eric and Emily's wedding day was made extra beautiful by the talented vendors they chose:
Venue: Heronsbridge Wedding
Decor: Knotwood Event Rentals
Dress: David's Bridal
Shoes: Converse
Caterer: Columbia Gourmet Catering
Photography: Jenni Marie Photography