Andrew & Nicole could be defined by their adventurous spirit, their love of the outdoors, their ability to laugh without reserve. A wedding day designed to celebrate Andrew & Nicole? Definitely defined by all of the above. With cowboy boots as bridal shoes, outdoor photos planned on a March wedding day (the potential for rain was high, but that only added to the adventure!), a fully stocked limo, and a now-traditional stop at Starbucks for Bride & Groom coffee, their Murrayville Hall Wedding was everything an adventurous, laughter-filled wedding day ought to be for two so fabulously in love.
Getting ready for her Murrayville Hall wedding, Nicole and her bridesmaids danced to country music while Millie the Dog watched adoringly. Millie also took her role as moral support and foot warmer during makeup application very seriously.
I'm not much of a dog person, but this dog I loved. Especially when she let me use her as a prop. 😉
(Don't forget to take a moment to marvel at this beautiful gown ordered online through Essence of Australia!
My assistant Greg nailed the excitement and love here. I love it!
We left their Murrayville Hall wedding in style and class. First stop? Starbucks. (Props to a limo driver who can navigate a Starbucks parking lot with poise with at least five backseat drivers.)
I loved being invited back into the family for another wedding day. Wanna see the Starbucks photos from when I photographed Nicole's sister's wedding a couple of years ago? They're here!  (And not only is the Starbucks stop a tradition, but Nicole's veil is her "something borrowed" from Brittany's wedding!)
I repeat myself: check. out. Nicole's. dress.
One more time: HER DRESS!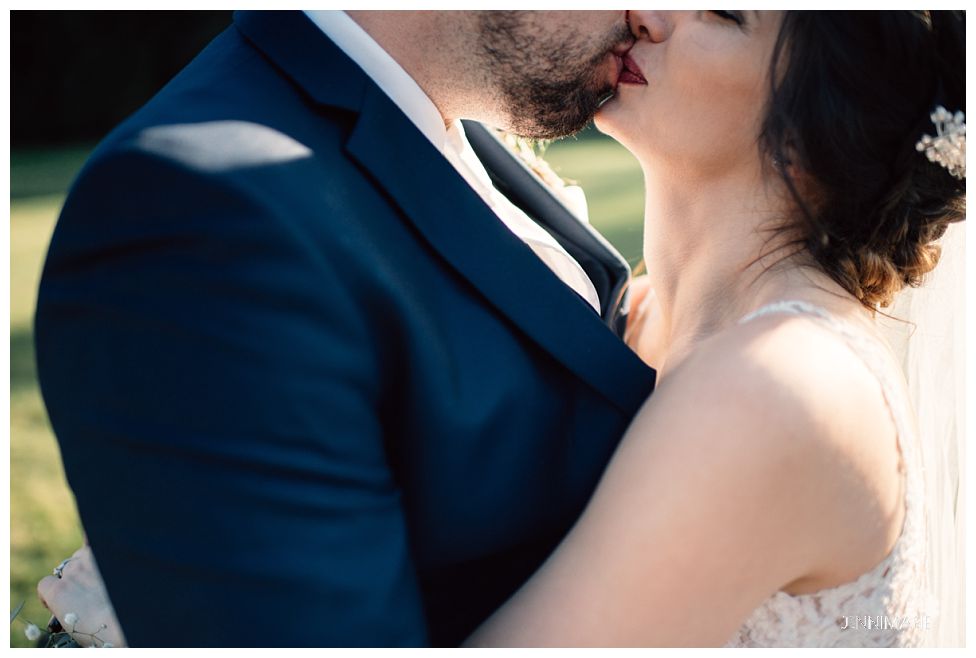 This is a stunning bridal party, yes, but also a gaggle of the best friends. Watching them celebrate with Nicole and Andrew was a joy. May ever bride and groom be surrounded by such a supportive group.
Back at Murrayville Hall, wedding coordinator Hilary and her team had completely transformed the space and were ready for a grand entrance.
After a receiving line filled with laughter, a delicious dinner, and tear-jerking speeches: the dancing began.
I adore watching parents of the couple on a wedding day: their joy and nostalgia, their enduring love, their dance moves. And aren't these two the cutest? <3
If you want to see even MORE photos from Andrew & Nicole's Murrayville Hall wedding, they're here for you:
With many thanks to the talented vendors who made this day sublimely perfect:
Dress: Essence of Australia
Florals: Fran's Flowers
Catering: Nicole's friend Rachel
Makeup: Makeup by MightyMegh
Hair: Vivid Boutique
Cake: Frostings
Coordination: Nicole's friend Hilary
Photography: Jenni Marie Photography