Vince and Rachel's Swaneset Wedding Day dawned with all the sunshine you could possibly imagine or desire on a springtime day in British Columbia. Without even a hint of rain, the sky's smiling was almost as radiant as Vince's joy when Rachel walked down the Swaneset Bay Resort aisle to become his wife.
With a wedding day filled with personalized details, friends of the bride and groom pitched in to set up all the flowers and decor — even the wedding favors were hand-made with love by a family friend! A wedding that filled with friendship is a marriage that will be bolstered by community in the days to come. I loved it!
The girls got ready in Swaneset's freshly remodeled bridal suite (this was my first time shooting at Swaneset Bay, so I cannot compare it to the pre-remodel version but I hear it's basically a million times more gorgeous!) in their matching robes and fantastic hair styles by the talented ladies at Temptations Salon in Maple Ridge.
I mean….check out that double braid!
The beauty of a wedding at Swaneset Bay Country Club is unrivaled: nestled in the mountains, a majestic chateau. Basically? Perfection.
I mean, c'mon: arriving at your wedding ceremony with THAT as your backdrop?
I loved working with the talented Amber-Leigh Bull as my second shooter for this Swaneset wedding: while I photographed the unity sand ceremony from the front, she snuck around back to this absolutely gorgeous shot of Rachel's veil playing in the breeze as she and Vince poured sand into the jar.
Moving into the portraits portion of the day, I loved how much personality these guys poured into the day.  I mean, are you seeing that dance move? =D
Rachel & Vince chose to have two flower girls and two ring bearers and these four were the cutest stars of the show, the best dancers at the reception, and the most fantastic posers.
I wish I could say these two are laughing with me, but I'm pretty sure they're laughing at me. . .
And when the flowers in bloom during your Swaneset Wedding match your wedding colours?  You know you planned well!
1
A Swaneset wedding is gorgeous not only for the view from the ceremony but for the view from the reception: check out that picture window!
Okay, so let's pause for a moment and take time to enjoy this #thatjusthappened moment: it's not very often the cake jumps off the plate, but when it does I make sure to photograph it.  No cake was eaten off the floor, of course, but it made for a pretty fantastic series of moments.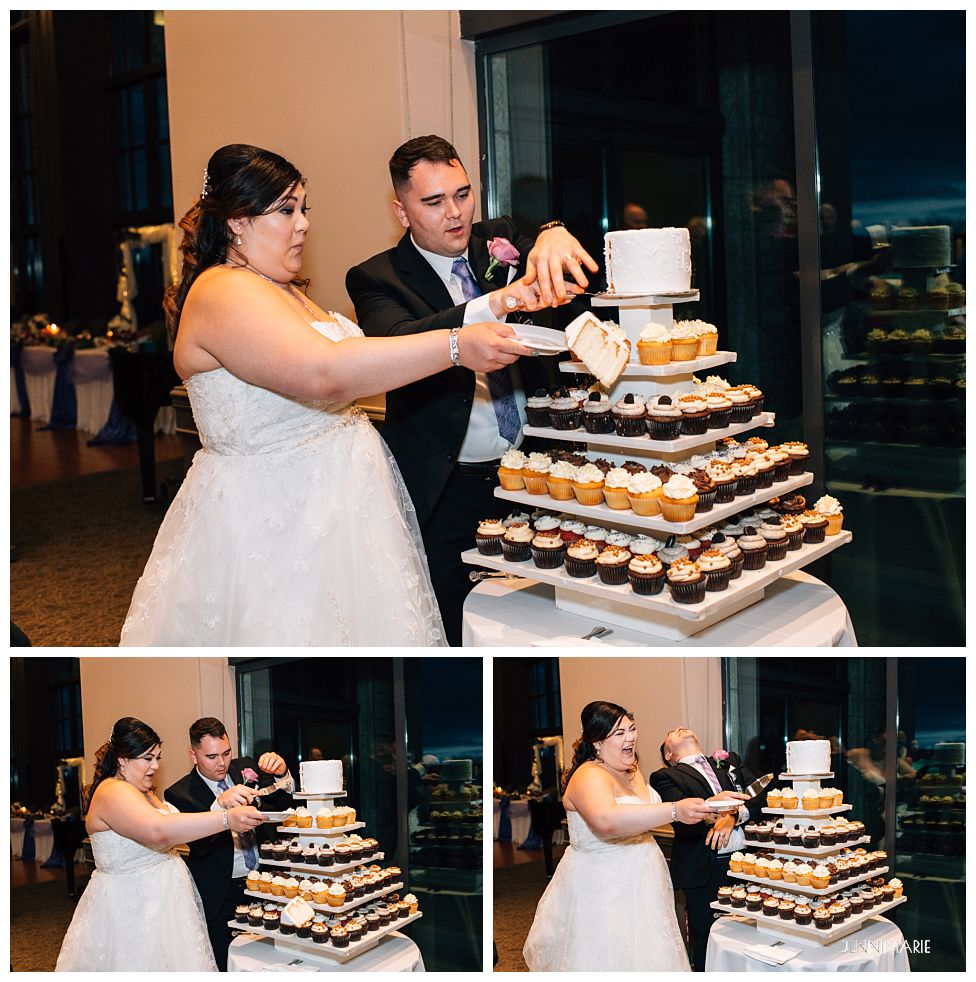 Rachel & Vince's friends know how to PAR-TAY. And the Swaneset Bay Resort dance floor is perfect for letting loose and breaking down. (Having live music definitely helped, too! Talia and the band were fantastic and kept the groove going all night!)
Vince and Rachel chose some fabulous vendors to create such a magical day.
Venue: Swaneset Bay Resort 
Florals: Friend of the Family
Band: Talia and Steelin in the Years
Dress: The Bridal Gallery
Cake: Cakes and Sweets
Hair: Perimeters
Photography: Jenni Marie Photography